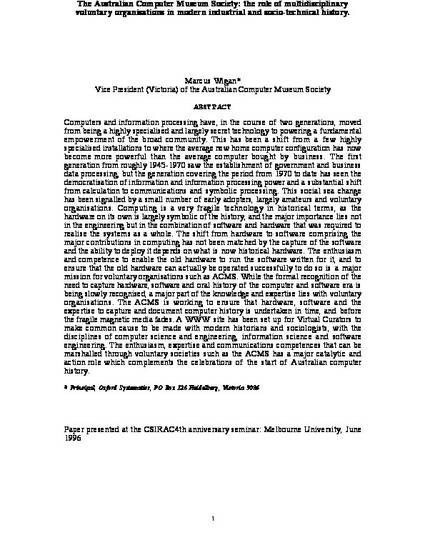 Contribution to Book
The Australian Computer Museum Society: the role of multidisciplinary voluntary organisations in modern industrial and socio-technical history.
The Last of the First: CSIRC Australia's First Computer (1996)
Abstract
Computers and information processing have, in the course of two generations, moved from being a highly specialised and largely secret technology to powering a fundamental empowerment of the broad community. This has been a shift from a few highly specialised installations to where the average new home computer configuration has now become more powerful than the average computer bought by business. The first generation from roughly 1945-1970 saw the establishment of government and business data processing, but the generation covering the period from 1970 to date has seen the democratisation of information and information processing power and a substantial shift from calculation to communications and symbolic processing. This social sea change has been signalled by a small number of early adopters, largely amateurs and voluntary organisations. Computing is a very fragile technology in historical terms, as the hardware on its own is largely symbolic of the history, and the major importance lies not in the engineering but in the combination of software and hardware that was required to realise the systems as a whole. The shift from hardware to software comprising the major contributions in computing has not been matched by the capture of the software and the ability to deploy it depends on what is now historical hardware. The enthusiasm and competence to enable the old hardware to run the software written for it, and to ensure that the old hardware can actually be operated successfully to do so is a major mission for voluntary organisations such as ACMS. While the formal recognition of the need to capture hardware, software and oral history of the computer and software era is being slowly recognised, a major part of the knowledge and expertise lies with voluntary organisations. The ACMS is working to ensure that hardware, software and the expertise to capture and document computer history is undertaken in time, and before the fragile magnetic media fades. A WWW site has been set up for Virtual Curators to make common cause to be made with modern historians and sociologists, with the disciplines of computer science and engineering, information science and software engineering. The enthusiasm, expertise and communications competences that can be marshalled through voluntary societies such as the ACMS has a major catalytic and action role which complements the celebrations of the start of Australian computer history.
Keywords
csirac,
computer history,
amateur curation,
ACMS
Publication Date
Winter June 13, 1996
Editor
Doug McCann, Peter Thorne
Publisher
University of Melbourne
ISBN
ISBN 978-0-73-405168-4
Citation Information
Marcus R Wigan. "The Australian Computer Museum Society: the role of multidisciplinary voluntary organisations in modern industrial and socio-technical history." Melbourne Australia
The Last of the First: CSIRC Australia's First Computer
(1996) p. 151 - 158
Available at: http://works.bepress.com/mwigan/26/