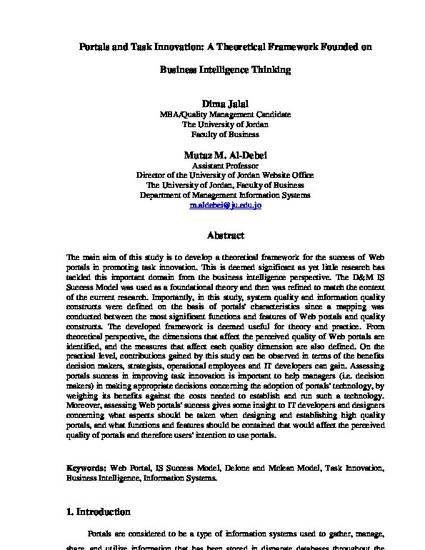 Article
Portals and Task Innovation: A Theoretical Framework Founded on Business Intelligence Thinking
The Eleventh Annual International Conference on Business Intelligenece and Knowledge Economy (2012)
Abstract
The main aim of this study is to develop a theoretical framework for the success of Web portals in promoting task innovation. This is deemed significant as yet little research has tackled this important domain from the business intelligence perspective. The D&M IS Success Model was used as a foundational theory and then was refined to match the context of the current research. Importantly, in this study, system quality and information quality constructs were defined on the basis of portals' characteristics since a mapping was conducted between the most significant functions and features of Web portals and quality constructs. The developed framework is deemed useful for theory and practice. From theoretical perspective, the dimensions that affect the perceived quality of Web portals are identified, and the measures that affect each quality dimension are also defined. On the practical level, contributions gained by this study can be observed in terms of the benefits decision makers, strategists, operational employees and IT developers can gain. Assessing portals success in improving task innovation is important to help managers (i.e. decision makers) in making appropriate decisions concerning the adoption of portals' technology, by weighing its benefits against the costs needed to establish and run such a technology. Moreover, assessing Web portals' success gives some insight to IT developers and designers concerning what aspects should be taken when designing and establishing high quality portals, and what functions and features should be contained that would affect the perceived quality of portals and therefore users' intention to use portals.
Citation Information
Mutaz M. Al-Debei and Dima Jalal. "Portals and Task Innovation: A Theoretical Framework Founded on Business Intelligence Thinking"
The Eleventh Annual International Conference on Business Intelligenece and Knowledge Economy
Vol. 2012 (2012)
Available at: http://works.bepress.com/mutaz_al-debei/7/