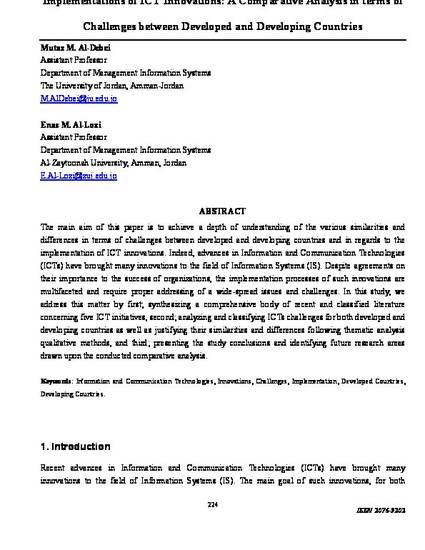 Article
Implementations of ICT Innovations: A Comparative Analysis in terms of Challenges between Developed and Developing Countries
International Journal of Information, Business and Management (2012)
Abstract
The main aim of this paper is to achieve a depth of understanding of the various similarities and differences in terms of challenges between developed and developing countries and in regards to the implementation of ICT innovations. Indeed, advances in Information and Communication Technologies (ICTs) have brought many innovations to the field of Information Systems (IS). Despite agreements on their importance to the success of organizations, the implementation processes of such innovations are multifaceted and require proper addressing of a wide-spread issues and challenges. In this study, we address this matter by first; synthesizing a comprehensive body of recent and classified literature concerningfive ICTinitiatives,second;analyzing and classifying ICTs challenges forboth developed and developing countries as well as justifying their similarities and differences following thematic analysis qualitative methods, and third; presenting the study conclusions and identifying future research areas drawn upon theconducted comparative analysis.
Keywords
Information and Communication Technologies,
Innovations,
Challenges,
Implementation,
Developed Countries,
DevelopingCountries.
Citation Information
Mutaz M. Al-Debei and Enas M. Al-Lozi. "Implementations of ICT Innovations: A Comparative Analysis in terms of Challenges between Developed and Developing Countries"
International Journal of Information, Business and Management
Vol. 4 Iss. 1 (2012)
Available at: http://works.bepress.com/mutaz_al-debei/5/