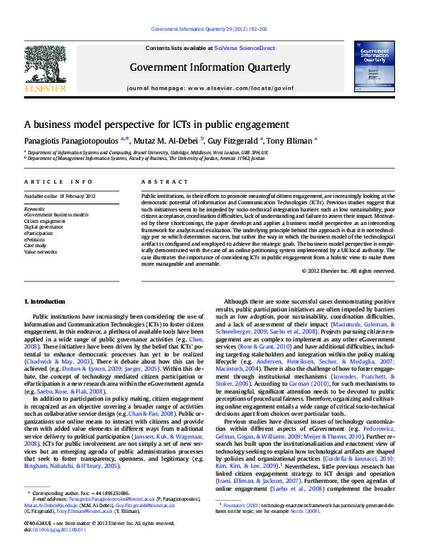 Article
A Business Model Perspective for ICTs in Public Engagement
Government Information Quarterly (2012)
Abstract
Public institutions, in their efforts to promote meaningful citizen engagement, are increasingly looking at the democratic potential of Information and Communication Technologies (ICTs). Previous studies suggest that such initiatives seem to be impeded by socio-technical integration barriers such as low sustainability, poor citizen acceptance, coordination difficulties, lack of understanding and failure to assess their impact. Motivated by these shortcomings, the paper develops and applies a business model perspective as an interceding framework foranalysisandevaluation. The underlying principlebehind thisapproachisthatit isnottechnology per se which determines success, but rather the way in which the business model of the technological artifact is configured and employed to achieve the strategic goals. The business model perspective is empirically demonstrated with the case of an online petitioning system implemented by a UK local authority. The case illustrates the importance of considering ICTs in public engagement from a holistic view to make them more manageable and assessable.
Keywords
eGovernment business models,
Citizen engagement,
Digital governance,
eParticipation,
ePetitions,
Case study,
Value networks
Citation Information
Mutaz M. Al-Debei, Panagiotis Panagiotopoulos, Guy Fitzgerald and Tony Elliman. "A Business Model Perspective for ICTs in Public Engagement"
Government Information Quarterly
Vol. 29 Iss. 2 (2012)
Available at: http://works.bepress.com/mutaz_al-debei/4/