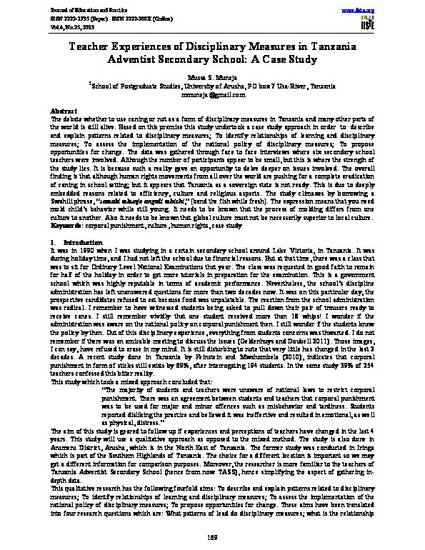 Article
Teacher Experiences of Disciplinary Measures in Tanzania Adventist Secondary School: A Case Study
Journal of Education and Practice (2013)
Abstract
The debate whether to use caning or not as a form of disciplinary measures in Tanzania and many other parts of the world is still alive. Based on this premise this study undertook a case study approach in order to describe and explain patterns related to disciplinary measures; To identify relationships of learning and disciplinary measures; To assess the implementation of the national policy of disciplinary measures; To propose opportunities for change. The data was gathered through face to face interviews where six secondary school teachers were involved. Although the number of participants appear to be small, but this is where the strength of the study lies. It is because such a reality gave an opportunity to delve deeper on issues involved. The overall finding is that although human rights movements from all over the world are pushing for a complete eradication of caning in school setting; but it appears that Tanzania as a sovereign state is not ready. This is due to deeply embedded reasons related to efficiency, culture and religious aspects. The study climaxes by borrowing a Swahili phrase, "samaki mkunje angali mbichi," [bend the fish while fresh]. The expression means that you need mold child's behavior while still young. It needs to be known that the process of molding differs from one culture to another. Also it needs to be known that global culture must not be necessarily superior to local culture.
Keywords
corporal punishment,
culture,
human rights,
case study
Citation Information
Mussa Muneja. "Teacher Experiences of Disciplinary Measures in Tanzania Adventist Secondary School: A Case Study"
Journal of Education and Practice
Vol. 4 Iss. 25 (2013)
Available at: http://works.bepress.com/mussa_muneja/8/