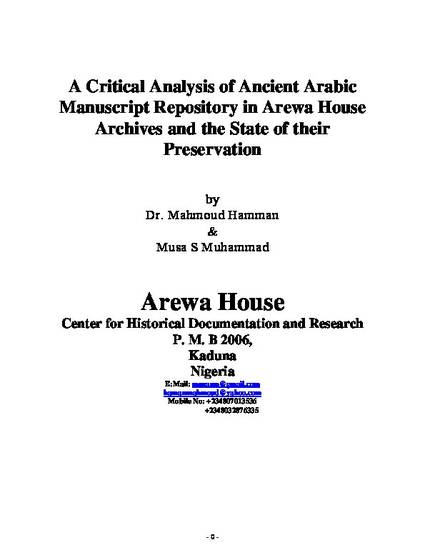 Presentation
A Critical Analysis of Arewa House Arabic Manuscripts Repository and their Preservation C. 1970-2009
International Conference of Ancient Manuscripts Held at United Nation Conference Center Addis Ababa (2010)
Abstract
Arabic / Ajami manuscript collection of Arewa House Centre for Historical Documentation and Research, ABU Zaria, Nigeria composed of pre-jihad and 19th century literatures. This literary tradition had its origin in the Islamic intellectual culture which developed in Nigeria since the 11th century A.D. The influx of scholars like Imam Suyudy (Born 1 Rajab 849/3 October 1445 and died 19 Jumada Ulaa 911/ 18 October 1505), and Sheikh Al-Magheeli (d. 1504) into the country as well as the establishment of the Sokoto Caliphate in the 19th century led to the production of hundreds of thousands of manuscripts on various topics and branches of Islamic sciences in Arabic and Ajami. The Center was founded in 1970. It houses a large library with over 50,000 volumes of printed books and a section dedicated to Arabic manuscripts containing about 1500 scripts of various sizes, and subjects. The subjects covered by the manuscripts include history, historiography, mathematics, grammar, Sufism, Panegyrics on the Prophet of Islam, and Theology. Thirty samples of the manuscripts are clearly provided in this paper with the authors' names, titles of the scripts, sizes, number of leaflets, and brief notes on them. The establishment of museums in Nigeria in 1957 as well as the commencement of work in Arewa House in the 1970s led to the procurement of Arabic scripts from local ulama for easy preservation and for research purposes. However, the collection is not without problems, ranging from lack of conservation facilities, inadequate funding for the advanced training of the managers of the manuscripts as well as complete absence of paper conservation laboratory for the treatment of dilapidated manuscripts. The aim of this paper is to critically analyse the state of Arewa House Arabic / Ajami manuscripts collection and the state of their preservation.
Publication Date
December 20, 2010
Citation Information
Musa Salih Muhammad. "A Critical Analysis of Arewa House Arabic Manuscripts Repository and their Preservation C. 1970-2009"
International Conference of Ancient Manuscripts Held at United Nation Conference Center Addis Ababa
(2010)
Available at: http://works.bepress.com/musasm/4/