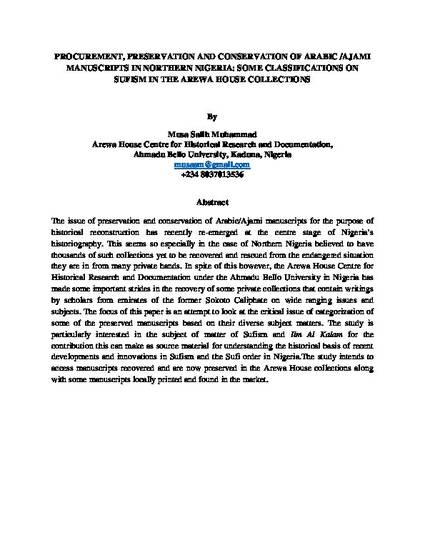 Presentation
PROCUREMENT, PRESERVATION AND CONSERVATION OF ARABIC /AJAMI MANUSCRIPTS IN NORTHERN NIGERIA: SOME CLASSIFICATIONS ON SUFISM IN THE AREWA HOUSE COLLECTIONS.pdf
11th International Conference on Sufism and Islamic Manuscript Culture: The Islamic Manuscript Association University of Cambridge UK (2016)
Abstract
Abstract
The issue of preservation and conservation of Arabic/Ajami manuscripts for the purpose of historical reconstruction has recently re-emerged at the centre stage of Nigeria's historiography. This seems so especially in the case of Northern Nigeria believed to have thousands of such collections yet to be recovered and rescued from the endangered situation they are in from many private hands. In spite of this however, the Arewa House Centre for Historical Research and Documentation under the Ahmadu Bello University in Nigeria has made some important strides in the recovery of some private collections that contain writings by scholars from emirates of the former Sokoto Caliphate on wide ranging issues and subjects. The focus of this paper is an attempt to look at the critical issue of categorization of some of the preserved manuscripts based on their diverse subject matters. The study is particularly interested in the subject of matter of Sufism and
Ilm Al Kalam
for the contribution this can make as source material for understanding the historical basis of recent developments and innovations in Sufism and the Sufi order in Nigeria.The study intends to access manuscripts recovered and are now preserved in the Arewa House collections along with some manuscripts locally printed and found in the market. 
Publication Date
Summer September 14, 2016
Location
Magdalene College University of Cambridge United Kingdom
Citation Information
Musa Salih Muhammad. "PROCUREMENT, PRESERVATION AND CONSERVATION OF ARABIC /AJAMI MANUSCRIPTS IN NORTHERN NIGERIA: SOME CLASSIFICATIONS ON SUFISM IN THE AREWA HOUSE COLLECTIONS.pdf"
11th International Conference on Sufism and Islamic Manuscript Culture: The Islamic Manuscript Association University of Cambridge UK
(2016)
Available at: http://works.bepress.com/musasm/14/