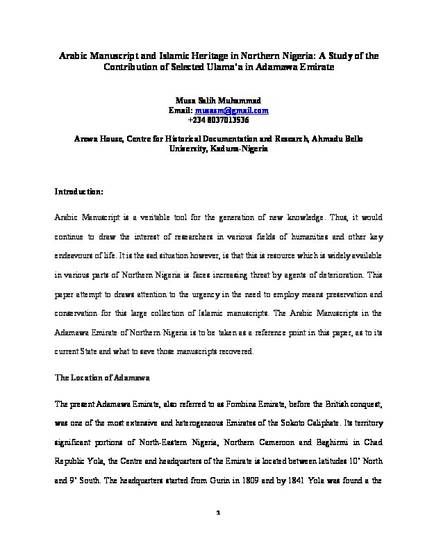 Presentation
Arabic Manuscript and Islamic Heritage in Northern Nigeria: A Study of the Contribution of Selected Ulama'a in Adamawa Emirate
Muslim Ulama in the Intellectual History of the Lake Chad Region ( UCT Oppenheimer Africa Project 2014) (2015)
Abstract
Arabic Manuscript is a veritable tool for the generation of new knowledge. Thus, it would continue to draw the interest of researchers in various fields of humanities and other key endeavours of life. It is the sad situation however, is that this is resource which is widely available in various parts of Northern Nigeria is faces increasing threat by agents of deterioration. This paper attempt to draws attention to the urgency in the need to employ means preservation and conservation for this large collection of Islamic manuscripts. The Arabic Manuscripts in the Adamawa Emirate of Northern Nigeria is to be taken as a reference point in this paper, as to its current State and what to save those manuscripts recovered.
Publication Date
Winter November 15, 2015
Citation Information
Musa Salih Muhammad. "Arabic Manuscript and Islamic Heritage in Northern Nigeria: A Study of the Contribution of Selected Ulama'a in Adamawa Emirate"
Muslim Ulama in the Intellectual History of the Lake Chad Region ( UCT Oppenheimer Africa Project 2014)
(2015)
Available at: http://works.bepress.com/musasm/13/