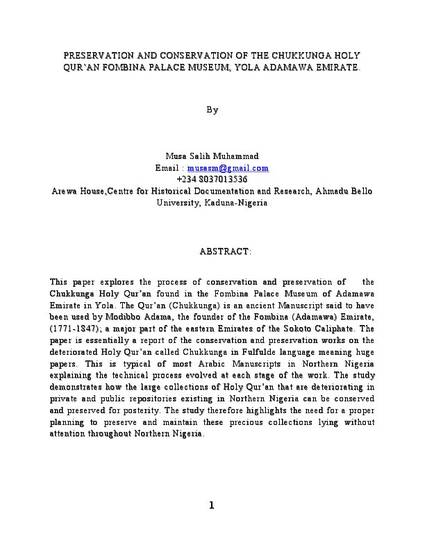 Presentation
PRESERVATION AND CONSERVATION OF THE CHUKKUNGA HOLY QUR'AN FOMBINA PALACE MUSEUM, YOLA ADAMAWA EMIRATE
Conference Paper (2015)
Abstract
This paper explores the process of conservation and preservation of the Chukkunga Holy Qur'an found in the Fombina Palace Museum of Adamawa Emirate in Yola. The Qur'an (Chukkunga) is an ancient Manuscript said to have been used by Modibbo Adama, the founder of the Fombina (Adamawa) Emirate, (1771-1847); a major part of the eastern Emirates of the Sokoto Caliphate. The paper is essentially a report of the conservation and preservation works on the deteriorated Holy Qur'an called Chukkunga in Fulfulde language meaning huge papers. This is typical of most Arabic Manuscripts in Northern Nigeria explaining the technical process evolved at each stage of the work. The study demonstrates how the large collections of Holy Qur'an that are deteriorating in private and public repositories existing in Northern Nigeria can be conserved and preserved for posterity. The study therefore highlights the need for a proper planning to preserve and maintain these precious collections lying without attention throughout Northern Nigeria.
Keywords
Chukunga,
Adamawa,
Emirate,
Conservation,
Preservation,
Galadima Albah,
Borno,
Musa Salih Muhammad
Publication Date
Summer August 15, 2015
Citation Information
Musa Salih Muhammad. "PRESERVATION AND CONSERVATION OF THE CHUKKUNGA HOLY QUR'AN FOMBINA PALACE MUSEUM, YOLA ADAMAWA EMIRATE"
Conference Paper
(2015)
Available at: http://works.bepress.com/musasm/12/