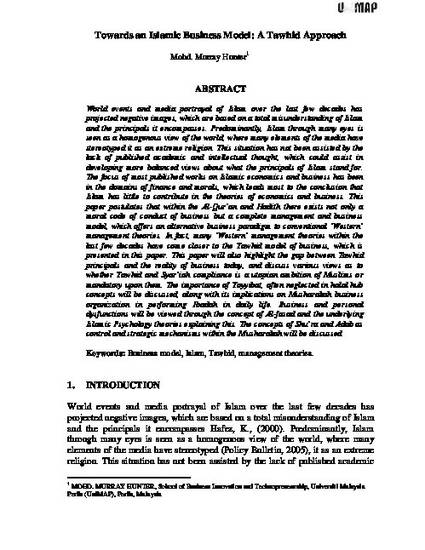 Article
Towards an Islamic Business Model: A tawhid Approach
Intrernational Journal of Business and Technopreneurship (2012)
Abstract
World events and media portrayal of Islam over the last few decades has projected negative images, which are based on a total misunderstanding of Islam and the principals it encompasses. Predominantly, Islam through many eyes is seen as a homogenous view of the world, where many elements of the media have stereotyped it as an extreme religion. This situation has not been assisted by the lack of published academic and intellectual thought, which could assist in developing more balanced views about what the principals of Islam stand for. The focus of most published works on Islamic economics and business has been in the domains of finance and morals, which leads most to the conclusion that Islam has little to contribute in the theories of economics and business. This paper postulates that within the Al-Qur'an and Hadith there exists not only a moral code of conduct of business but a complete management and business model, which offers an alternative business paradigm to conventional 'Western' management theories. In fact, many 'Western' management theories within the last few decades have come closer to the Tawhid model of business, which is presented in this paper. This paper will also highlight the gap between Tawhid principals and the reality of business today, and discuss various views as to whether Tawhid and Syar'iah compliance is a utopian ambition of Muslims or mandatory upon them. The importance of Toyyibat, often neglected in halal hub concepts will be discussed, along with its implications on Musharakah business organization in performing Ibadah in daily life. Business and personal dysfunctions will be viewed through the concept of Al-fasad and the underlying Islamic Psychology theories explaining this. The concepts of Shu'ra and Adab as control and strategic mechanisms within the Musharakah will be discussed.
Citation Information
Murray Hunter. "Towards an Islamic Business Model: A tawhid Approach"
Intrernational Journal of Business and Technopreneurship
Vol. 2 Iss. 1 (2012)
Available at: http://works.bepress.com/murray_hunter/15/