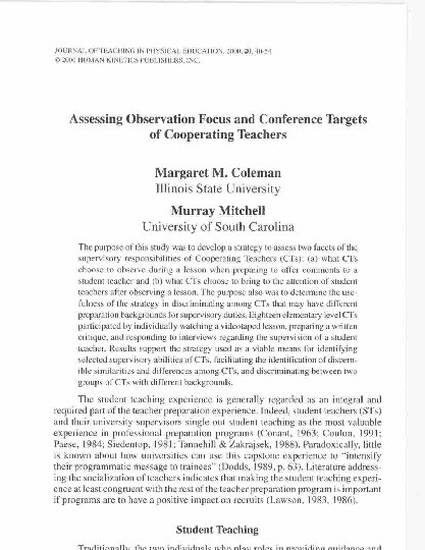 Article
Assessing Observation Focus and Conference Targets of Cooperating Teachers
Journal of Teaching in Physical Education
Publication Date
10-1-2001
Subject Area(s)
Physical Education
Abstract
The purpose of this study was to develop a strategy to assess two facets of the supervisory responsibilities of Cooperating Teachers (CTs): (a) what CTs choose to observe during a lesson when preparing to offer comments to a student teacher and (b) what CTs choose to bring to the attention of student teachers after observing a lesson. The purpose also was to determine the usefulness of the strategy in discriminating among CTs that may have different preparation backgrounds for supervisory duties. Eighteen elementary level CTs participated by individually watching a videotaped lesson, preparing a written critique, and responding to interviews regarding the supervision of a student teacher. Results support the strategy used as a viable means for identifying selected supervisory abilities of CTs, facilitating the identification of discernible similarities and differences among CTs, and discriminating between two groups of CTs with different backgrounds.
Citation Information
Margaret M. Coleman and Murrary F. Mitchell. "Assessing Observation Focus and Conference Targets of Cooperating Teachers"
Journal of Teaching in Physical Education
Vol. 20 Iss. 1 (2001) p. 40 - 54
Available at: http://works.bepress.com/murrary_mitchell/11/