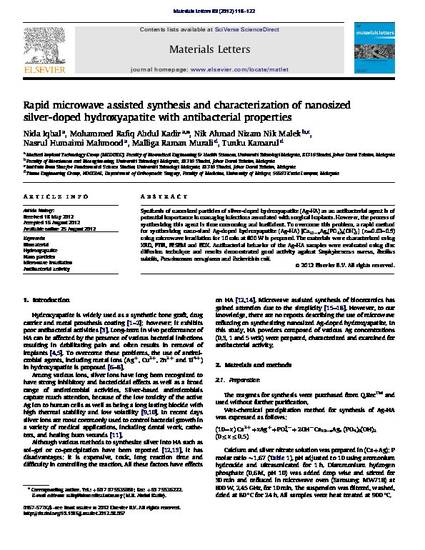 Article
Rapid microwave assisted synthesis and characterization of nanosized silver-doped hydroxyapatite with antibacterial properties
Materials letters (2012)
Abstract
Synthesis of nanosized particles of silver-doped hydroxyapatite (Ag-HA) as an antibacterial agent is of potential importance in managing infections associated with surgical implants. However, the process of synthesizing this agent is time consuming and inefficient. To overcome this problem, a rapid method for synthesizing nano-sized Ag-doped hydroxyapatite (Ag-HA) [Ca10−xAgx(PO4)6(OH)2] (x=0.03–0.5) using microwave irradiation for 10 min at 800 W is proposed. The materials were characterized using XRD, FTIR, FESEM and EDX. Antibacterial behavior of the Ag-HA samples were evaluated using disc diffusion technique and results demonstrated good activity against Staphylococcus aureus, Bacillus subtilis, Pseudomonas aeruginosa and Escherichia coli.
Keywords
Biomaterial,
Hydroxyapatite,
Nano particles,
Microwave irradiation,
Antibacterial activity
Citation Information
Iqbal N, Abdul Kadir MR, Nik Malek NAZ, Mahmooda NH, et al.. "Rapid microwave assisted synthesis and characterization of nanosized silver-doped hydroxyapatite with antibacterial properties"
Materials letters
Vol. 89 (2012)
Available at: http://works.bepress.com/muralimalligaraman/16/