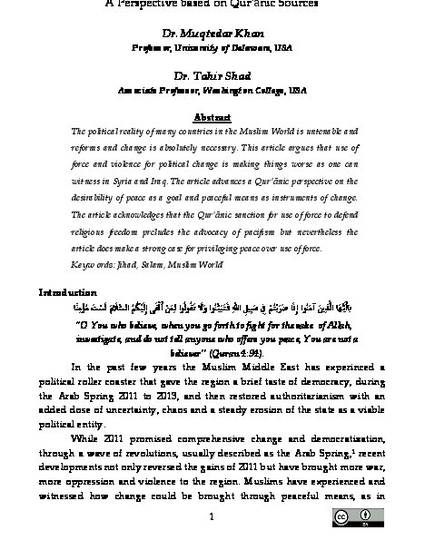 Article
From Jihad to Salam in Pursuit of Political Change: A Perspective Based on Quranic Sources
Journal of Islamic and Religious Studies (2017)
Abstract
The political reality of many countries in the Muslim World is untenable and reforms and change is absolutely necessary. This article argues that use of force and violence for political change is making things worse as one can witness in Syria and Iraq. The article advances a Quranic perspective on the desirability of peace as a goal and peaceful means as instruments of change. The article acknowledges that the Quranic sanction for use of force to defend religious freedom prcludes the advocacy of pacifism but nevertheless the article does make a strong case for privileging peace over use of force.
Keywords
Jihad,
Salam,
War,
Peace,
Islam,
Quran,
Muqtedar Khan,
CVE
Publication Date
Fall December, 2017
Citation Information
Muqtedar Khan. "From Jihad to Salam in Pursuit of Political Change: A Perspective Based on Quranic Sources"
Journal of Islamic and Religious Studies
Vol. 2 Iss. 2 (2017) p. 1 - 12 ISSN: 2519-7118
Available at: http://works.bepress.com/muqtedar_khan/74/