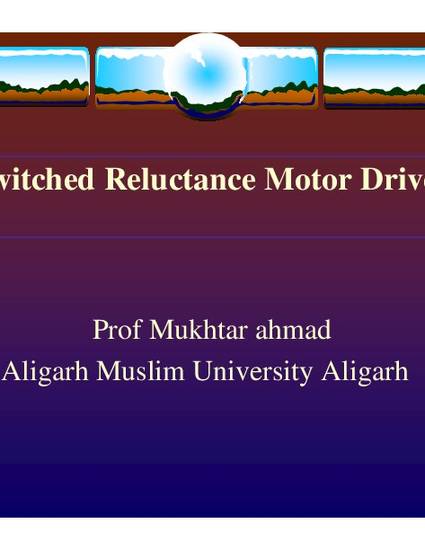 Presentation
Switched Reluctance machines
Aligarh Muslim University (2008)
Abstract
The principle of operation of reluctance machines are known for a long time. In 1838 a locomotive was driven by such a motor in Scotland. The stepper motor which also works on the principle of variable reluctance was patented by CL Walker in 1920.The basic concepts of switched reluctance motors in present form were first introduced by SA Nasar in his paper in Proceedings of IEE in 1969. During late 70's and 80's, as fast switching devices became available, the applications of SRM have increased manifold. Due to their simple and rugged topology these motors are finding applications in consumer appliances, auto industries, and defence. Presently Ford motor company is using SRM in power assisted steering system. The slow development in commercialization of these motors was mainly due to the need to have specialized design, and requirement of a sensor to control the speed. The other disadvantages are the torque ripple and acoustic noise Now these disadvantages have been minimized by improving the design, sensorless drives have been developed, and many manufacturers are producing the SRM, making it easily available motor. The switched reluctance motors have many advantages, e.g. high efficiency, can be designed for ratings from few watts to M watts and can be employed in harsh working environments.
Publication Date
January 9, 2008
Citation Information
Mukhtar Ahmad. "Switched Reluctance machines"
Aligarh Muslim University
(2008)
Available at: http://works.bepress.com/mukhtar_ahmad/18/