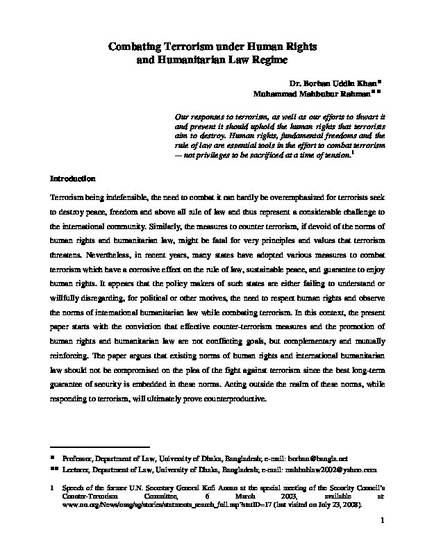 Unpublished Paper
Combating Terrorism under Human Rights and Humanitarian Law Regime
ExpressO (2008)
Abstract
Terrorism being indefensible, the need to combat it can hardly be overemphasized. Similarly, the measures to counter terrorism, if devoid of the norms of human rights (HR) and international humanitarian law (IHL), might be fatal for very principles and values that terrorism threatens. In this context, the paper examines HR and IHL implications of characterizing counter-terrorism measures as 'law enforcement' or 'war'. In doing so, the overlapping boundaries of HR and IHL are demarcated to demonstrate when counter-terrorism measures enter the territory of derogation and the permissible extent of such derogation. The paper observes that during the last one decade, particularly after the atrocious events of 9/11, new interpretations are being offered and new techniques are being employed to deviate from the state obligations under HR and IHL regime. These include, inter alia, characterization of crimes as 'armed conflict', resorting to war by avoiding law enforcement measures, declaration of unjust war through wrong interpretation of self-defence right, and unjust attack on the efficacy of IHL. By critically examining these techniques in the light of HR and IHL jurisprudence, the author submits that the interpretations offered to justify these techniques have hardly any legal basis and observes that these interpretations and techniques are posing potential threats to the very essence and existence of the basic norms of HR and IHL. The paper also analyzes the consequences of undermining or marginalizing HR and IHL norms in the fight against terrorism. The author apprehends that, due to so-called global war on terror, promotion of HR and IHL might be an issue of no relevance or, at least, of stiff challenge, and the development of comprehensive international standards on terrorism might be deferred. The author also predicts vacuum of legal norms and breeding of terrorism. Finally, the paper argues that existing norms of HR and IHL should not be compromised on the plea of the fight against terrorism since the best long-term guarantee of security is embedded in these norms. Acting outside the realm of these norms, while responding to terrorism, will ultimately prove counterproductive.
Publication Date
August 1, 2008
Citation Information
Muhammad Mahbubur Rahman and Borhan Uddin Khan. "Combating Terrorism under Human Rights and Humanitarian Law Regime"
ExpressO
(2008)
Available at: http://works.bepress.com/muhammad_rahman/1/