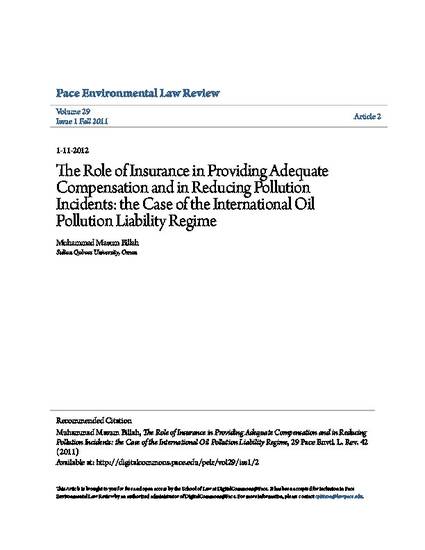 Article
The Role of Insurance in Providing Adequate Compensation and in Reducing Pollution Incidents: the Case of the International Oil Pollution Liability Regime
Pace Environmental Law Review (2011)
Abstract
In terms of compensation, the international oil pollution liability regime is very successful, but its success in deterring negligent navigation is not above question. That said, the stated primary goal of the oil pollution liability regime is to provide adequate compensation against oil pollution damage fulfilling this goal, the oil pollution liability regime has achieved great success. The success of the oil pollution liability regime in guaranteeing adequate compensation can be attributed to its various insurance provisions. It not only imposes compulsory insurance on ship-owners but also requires them to carry a certificate of insurance as proof. The regime then ensures oil pollution victims access to insurance proceeds by allowing them to bring direct action against the insurers.
Keywords
Vessel-sourced oil pollution,
Compensation for oil pollution,
Role of insurance
Publication Date
Fall 2011
Citation Information
Muhammad Masum Billah. "The Role of Insurance in Providing Adequate Compensation and in Reducing Pollution Incidents: the Case of the International Oil Pollution Liability Regime"
Pace Environmental Law Review
Vol. 29 Iss. 1 (2011)
Available at: http://works.bepress.com/muhammad_masum_billah/3/