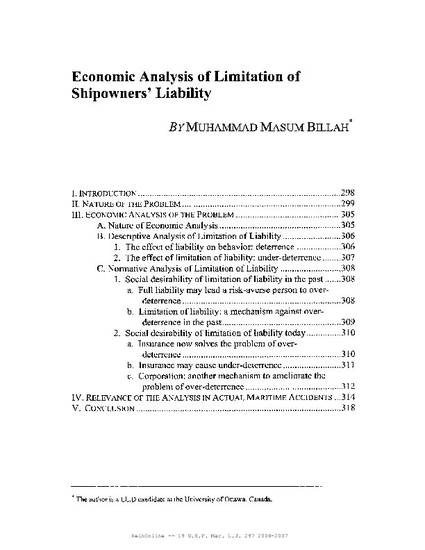 Article
Economic Analysis of Limitation of Shipowners' Liability
University of San Francisco Maritime Law Journal (2007)
Abstract
Limitation of liability is a feature common to all areas of shipowners' liability. Historically, its justification has been the encouragement of investment in the national shipping sector. The modern-day justification its supporters rely upon is either the lack of capacity or the prohibitively high cost of insurance for unlimited liability. Its most criticized consequence is the deprivation of adequate compensation to victims of maritime accidents. As a result, recent changes in maritime liability laws focus on increasing compensation, sometimes from sources other than liable parties. This approach fails to consider the main goal of a liability system: to deter potentially liable parties from engaging in careless activities. By controlling the magnitude of liability, limitation of liability reduces the expected liability of shipowners and consequently their optimal precaution. It encourages negligent navigation. The paper explains why deterrence is properly considered the main purpose of shipowners' liability. It analyzes limitation of liability in terms of its effect on potentially liable parties' behavior and its desirability in maritime liability law. Finally, it illustrates the practicality of the analysis.
Keywords
limitation of liability,
economic analysis of law,
maritime liability law
Citation Information
Muhammad Masum Billah. "Economic Analysis of Limitation of Shipowners' Liability"
University of San Francisco Maritime Law Journal
Vol. 19 (2007)
Available at: http://works.bepress.com/muhammad_masum_billah/1/