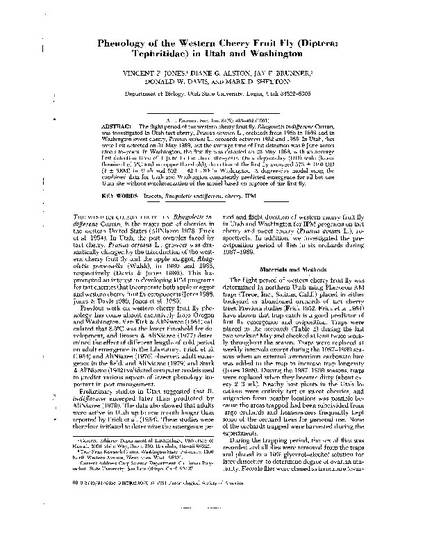 Article
Phenology of the Western Cherry Fruit Fly (Diptera: Tephritidae) in Utah and Washington
Annals of the Entomological Society of America
Publication Date
9-1-1991
Abstract
The flight period of the western cherry fruit fly, Rhagoletis indifferens Curran, was investigated in Utah tart cherry, Prunus cerasus L., orchards from 1983 to 1989 and in Washington sweet cherry, Prunus avium L., orchards between 1982 and 1988. In Utah, flies were first detected on 31 May 1989, but the average time of first detection was 9 June across nine site-years. In Washington, the first fly was detected on 23 May 1988, with an average first detection time of 1 June in the three site-years. On a degree-day (DD) scale (lower threshold of 5°C and no upper threshold), detection of the first fly averaged 573 ± 19.0 DD (x̄ ± SEM) in Utah and 592 ± 42.1 DD in Washington. A degree-day model using the combined data for Utah and Washington consistently predicted emergence for all but one Utah site without synchronization of the model based on capture of the first fly.
Citation Information
Vincent P. Jones, Diane G. Alston, Jay F. Brunner, Donald W. Davis, et al.. "Phenology of the Western Cherry Fruit Fly (Diptera: Tephritidae) in Utah and Washington"
Annals of the Entomological Society of America
Vol. 84 Iss. 5 (1991) p. 488 - 492
Available at: http://works.bepress.com/mshelton/5/