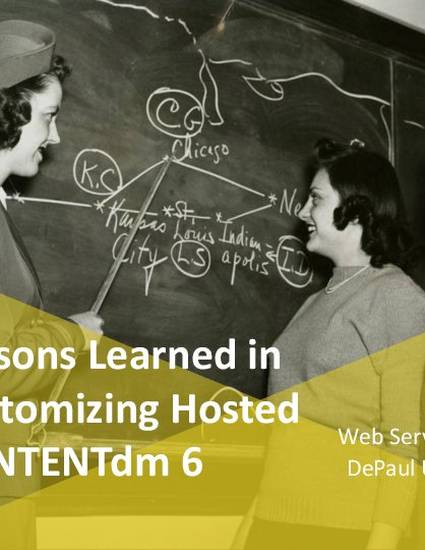 Presentation
Lessons Learned in Customizing Hosted CONTENTdm 6
Upper Midwest Digital Collections Conference (2014)
Abstract
DePaul University Library will share its lessons learned and recommendations for hosted CONTENTdm 6 administrators wishing to customize CONTENTdm in a way that strikes the right balance between default CONTENTdm sites and sites that stand out and better serve our unique audiences. The DePaul University Library has learned many lessons from customizing its hosted instance of CONTENTdm 6, including the use of jQuery to add interface enhancements and remove some native CONTENTdm features. Unfortunately, this did not prove a long-term solution due to some limitations of CONTENTdm's built-in customization tools, leading to content management issues and bugs that were hard to pin down. We retreated from that earlier effort and tackled the problem anew in 2013, launching new customizations using a different strategy that is much more flexible and, importantly, much more stable.
Keywords
contentdm,
digital collections,
libraries,
user experience,
web design
Publication Date
August 18, 2014
Citation Information
M Ryan Hess. "Lessons Learned in Customizing Hosted CONTENTdm 6"
Upper Midwest Digital Collections Conference
(2014)
Available at: http://works.bepress.com/mryanhess/12/