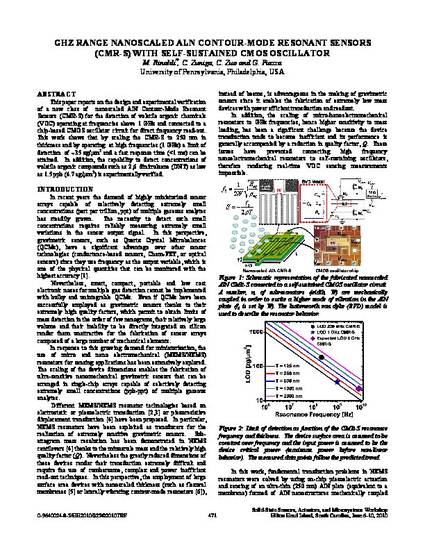 Article
GHz Range Nanoscaled AlN Contour-Mode Resonant Sensors (CMR-S) with Self-Sustained CMOS Oscillator
2010 Solid-State Sensors, Actuators and Microsystems Workshop (Hilton Head 2010)
Abstract
This paper reports on the design and experimental verification of a new class of nanoscaled AlN Contour-Mode Resonant Sensors (CMR-S) for the detection of volatile organic chemicals (VOC) operating at frequencies above 1 GHz and connected to a chip-based CMOS oscillator circuit for direct frequency read-out. This work shows that by scaling the CMR-S to 250 nm in thickness and by operating at high frequencies (1 GHz) a limit of detection of ~35 zg/µm2 and a fast response time (<1 >ms) can be attained. In addition, the capability to detect concentrations of volatile organic compounds such as 2,6 dinitroluene (DNT) as low as 1.5 ppb (4.7 ag/µm2) is experimentally verified.
Document Type
Conference Paper
Date of this Version
6-1-2010
Citation Information
Matteo Rinaldi, Chiara Zuniga, Chengjie Zuo and Gianluca Piazza. "GHz Range Nanoscaled AlN Contour-Mode Resonant Sensors (CMR-S) with Self-Sustained CMOS Oscillator"
2010 Solid-State Sensors, Actuators and Microsystems Workshop (Hilton Head 2010)
(2010) p. 471 - 474
Available at: http://works.bepress.com/mrinaldi/6/