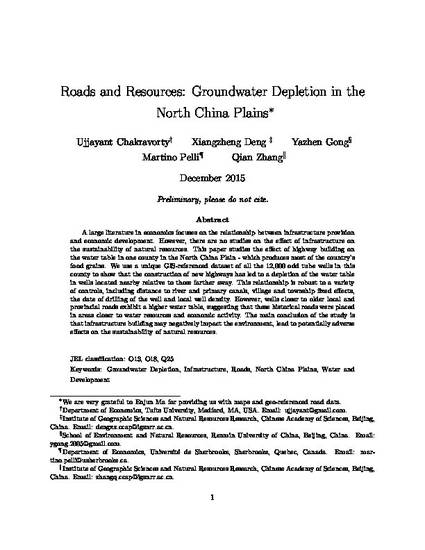 Unpublished Paper
Roads and Resources: Groundwater Depletion in the North China Plains
Working Paper (2017)
Abstract
A large literature in economics focuses on the relationship between infrastructure provision and economic development. However, there are no studies on the effect of infrastructure on the sustainability of natural resources. This paper studies the effect of highway building on the water table in one county in the North China Plain - which produces most of the country's food grains. We use a unique GIS-referenced dataset of all the 12,000 odd tube wells in this county to show two facts. First, that the probability of digging new wells in the proximity of new highways significantly increases in the aftermath of the construction. Second, that the construction of new highways has led to a depletion of the water table in wells located nearby relative to those farther away. The main conclusion of the study is that infrastructure building may negatively impact the environment, leading to potentially adverse effects on the sustainability of natural resources. 
Keywords
Groudwater; Depletion; Roads
Citation Information
Martino Pelli, Ujjayant Chakravorty, Xiangzheng Deng, Yazhen Gong, et al.. "Roads and Resources: Groundwater Depletion in the North China Plains"
Working Paper
(2017)
Available at: http://works.bepress.com/mpelli/8/