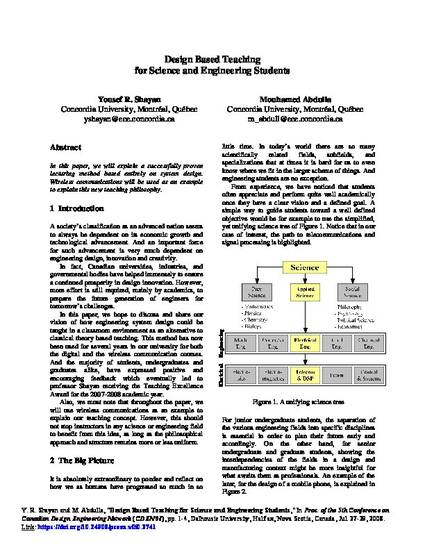 Presentation
Design Based Teaching for Science and Engineering Students
Proc. of the 5th Conference on Canadian Design Engineering Network (CDEN'08) (2008)
Abstract
In this paper, we will explain a successfully proven lecturing method based entirely on system design. Wireless communications will be used as an example to explain this new teaching philosophy.
Keywords
Education,
Engineering Education,
Canadian Engineering Education,
Engineering School,
Pedagogy,
Pedagogy in Engineering,
Curriculum Development,
Teaching and Learning,
Learning Outcome,
Course Design,
Course Development,
Forward Design,
Backward Design,
Educational Projects,
CDIO,
Applied Learning,
Design,
Engineering Design,
Design Method,
Design Research,
Engineering Course,
Electrical Engineering,
Telecommunication,
Digital Communication,
Wireless Communication
Publication Date
Summer July 27, 2008
Location
Halifax, Nova Scotia, Canada (Dalhousie University)
DOI
https://doi.org/10.24908/pceea.v0i0.3741
Citation Information
Y. R. Shayan and M. Abdulla, "Design Based Teaching for Science and Engineering Students," In Proc. of the 5th Conference on Canadian Design Engineering Network (CDEN'08), pp. 1-4, Dalhousie University, Halifax, Nova Scotia, Canada, Jul. 27-29, 2008. Link: https://doi.org/10.24908/pceea.v0i0.3741
Creative Commons License
This work is licensed under a Creative Commons CC_BY International License.