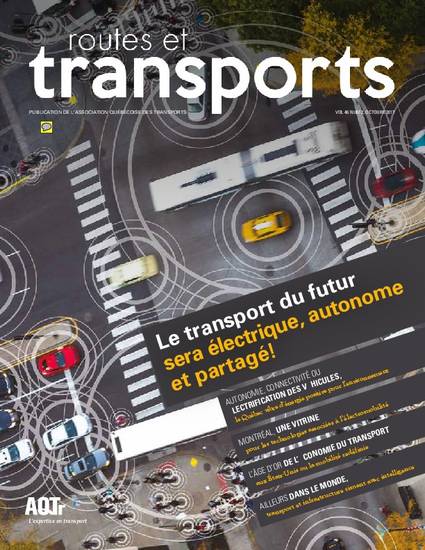 Article
5G Connected Vehicles: the Missing Link to Highly Autonomous Vehicles
Routes et transports Magazine, l'Association québécoise des transports (AQTr) (2017)
Abstract
There is a convergence between technologists, visionaries, corporations, academics, and policymakers on the expected trend of intelligent transportation systems (ITS). The related infrastructure and vehicles of the future will essentially have four key attributes, they will be: electric, autonomous, connected, and shared.
In this article, we attempt to underscore the complementary need of both sensors and connectivity for highly autonomous vehicles. The technical requirement for vehicular interconnectivity and the overall system performance under the anticipated 5G standard is discussed. Open challenges that will require extensive research by the scientific engineering community before real-world mass deployment of highly autonomous vehicles are also highlighted.
Keywords
ITS,
V2X,
V2V,
C-V2X,
DSRC,
VANET,
802.11p,
5G,
LOS,
WLOS,
NLOS,
CAV,
URLLC,
H2020,
Intelligent Transportation System,
Connected Vehicles,
Vehicle-to-Everything,
Vehicle-to-Vehicle,
Dedicated Short-Range Communication,
Vehicular Ad hoc Network,
Path Loss,
Propagation Model,
Channel Model,
Connected Vehicle,
Autonomous Vehicle,
Connected and Autonomous Vehicle,
Outage Probability,
Reliability,
Ultra-Reliable Low-Latency Communication,
Stochastic Geometry,
Meta Distribution,
Road Safety,
Traffic Efficiency,
Urban Intersection,
Suburban Intersection,
Smart Intersection,
Intelligent Intersection,
Smart City,
Research,
Research Funding,
Grants,
Grant Proposals,
Government Funding,
European Commission,
Europe,
EU,
MSCA,
Marie-Curie,
Marie Skłodowska Curie Action
Publication Date
Fall October 1, 2017
Citation Information
M. Abdulla and K. Wu, "5G Connected Vehicles: the Missing Link to Highly Autonomous Vehicles," Routes et transports Magazine, l'Association québécoise des transports (AQTr), vol. 46, no. 2, pp. 122-127, Oct. 2017. ISSN: 0319-3780 (print). Link: https://research.chalmers.se/en/publication/?id=253552
Creative Commons license
This work is licensed under a Creative Commons CC_BY International License.