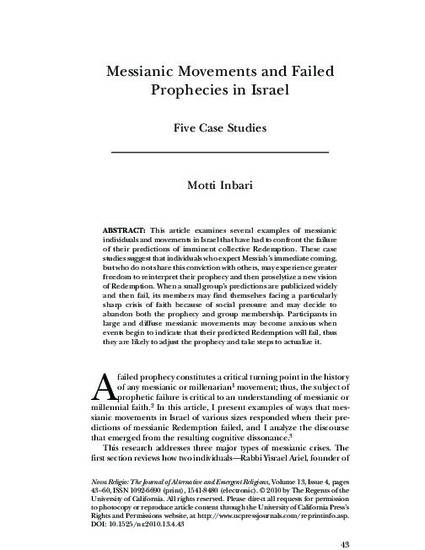 Article
Messianic Movements and Failed Prophecies in Israel - Five Case Studies
Nova Religio - The Journal of Alternative and Emergent Religions (2010)
Abstract
This article examines several examples of messianic individuals and movements in Israel that have had to confront the failure of their predictions of imminent collective Redemption. These case studies suggest that individuals who expect Messiah's immediate coming, but who do not share this conviction with others, may experience greater freedom to reinterpret their prophecy and then proselytize a new vision of Redemption. When a small group's predictions are publicized widely and then fail, its members may find themselves facing a particularly sharp crisis of faith because of social pressure and may decide to abandon both the prophecy and group membership. Participants in large and diffuse messianic movements may become anxious when events begin to indicate that their predicted Redemption will fail, thus they are likely to adjust the prophecy and take steps to actualize it.
Citation Information
Motti Inbari. "Messianic Movements and Failed Prophecies in Israel - Five Case Studies"
Nova Religio - The Journal of Alternative and Emergent Religions
Vol. 13 Iss. 4 (2010)
Available at: http://works.bepress.com/motti_inbari/11/