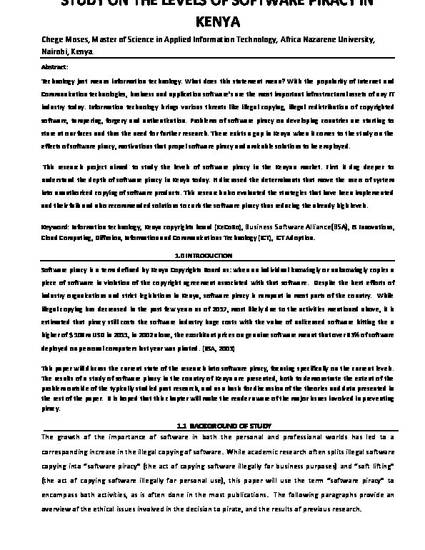 Article
journal paper MOSES CHEGE.pdf
INFORMATION SYSTEMS AND SOFTWARE DEVELOPMENT (2017)
Abstract
Technology just means information technology. What does this statement mean? With the popularity of Internet and Communication technologies, business and application software's are the most important infrastructural assets of any IT industry today. Information technology brings various threats like illegal copying, illegal redistribution of copyrighted software, tampering, forgery and authentication. Problems of software piracy on developing countries are starting to stare at our faces and thus the need for further research. There exists a gap in Kenya when it comes to the study on the effects of software piracy, motivations that propel software piracy and amicable solutions to be employed.
 This research project aimed to study the levels of software piracy in the Kenyan market. First it dug deeper to understand the depth of software piracy in Kenya today. It discussed the determinants that move the users of system into unauthorized copying of software products. This research also evaluated the strategies that have been implemented and their fails and also recommended solutions to curb the software piracy thus reducing the already high levels.
Keywords
Kenya copyrights board (KeCoBo),
Business Software Alliance(BSA),
IS Innovations,
Cloud Computing,
Diffusion,
Information and Communications Technology (ICT),
ICT Adoption.,
Information technology
Publication Date
Winter December 12, 2017
Citation Information
MOSES CHEGE and Collins Oduor Ondiek. "journal paper MOSES CHEGE.pdf"
INFORMATION SYSTEMS AND SOFTWARE DEVELOPMENT
(2017)
Available at: http://works.bepress.com/moses-chege/1/