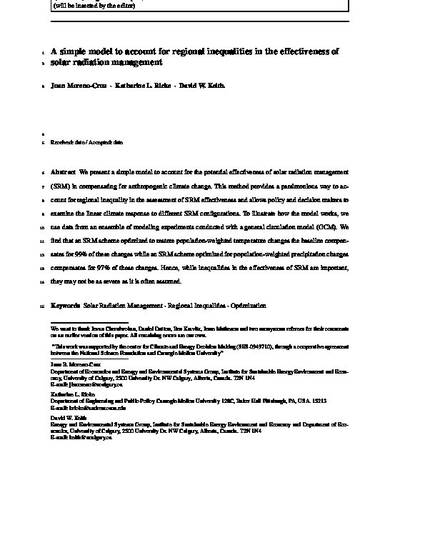 Article
A simple model to account for regional inequalities in the effectiveness of solar radiation management
Climatic Change Journal (2012)
Abstract
We develop a simple measure of the potential effectiveness of solar radiation management (SRM) in compensating for anthropogenic climate change and test this measure using data from an ensemble of modeling experiments conducted with a general circulation model (GCM). Assuming a linear relationship between the amounts of SRM implemented globally and the regional temperature and precipitation responses to that change, we calculate the amount of SRM that minimizes impacts using three different social objectives: egalitarian, utilitarian and ecocentric. While inequalities in the effectiveness of SRM between regions are important, they may not be as severe as is often assumed. When changes in precipitation and temperature are normalized by pre-industrial variability and weighted equally, we find that SRM could compensate for most of the damages caused by carbon-dioxide-driven climate change without making any region worse-off. While this method provides a parsimonious way to examine inequality, quantitative conclusions will require more realistic estimates of impact and of the climate's response to SRM.
Keywords
Solar Radiation Management,
Climate Change,
Inequality
Citation Information
Juan B Moreno-Cruz, Katharine L Ricke and David W Keith. "A simple model to account for regional inequalities in the effectiveness of solar radiation management"
Climatic Change Journal
Vol. 110 Iss. 3-4 (2012)
Available at: http://works.bepress.com/morenocruz/2/