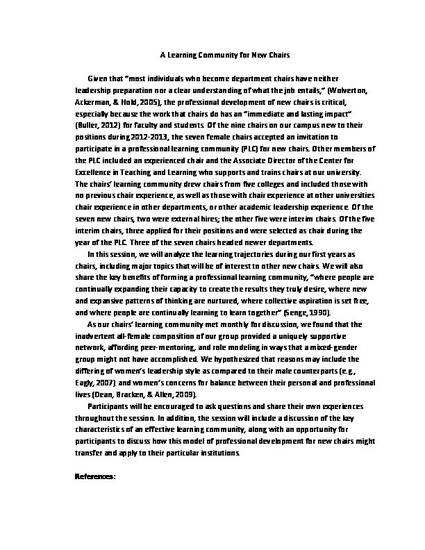 Article
A Learning Community for New Chairs
Academic Chairpersons Conference Proceedings
Presentation Type
Roundtable Discussion (Facilitated during a 60 minute lunch where discussion revolves around one topic)
Abstract
Key elements of an effective professional learning community will be discussed, including readings, peer mentoring, meeting structure, composition, and timing of topics. Presenters will discuss the challenges of their first years as chairs, particularly finding their individual leadership styles and a balance between professional and personal lives.
Keywords
New chairs development,
Professional learning community,
Mentoring,
Professional development for chairs,
Cross-disciplinary learning community,
Women in the workplace,
Women's leadership,
Work and life balance
Citation Information
Lynn Stallings, Meghan Burke, Ruth A. Goldfine, Dawn L. Kirby, et al.. "A Learning Community for New Chairs"
Available at: http://works.bepress.com/monica_nandan/52/