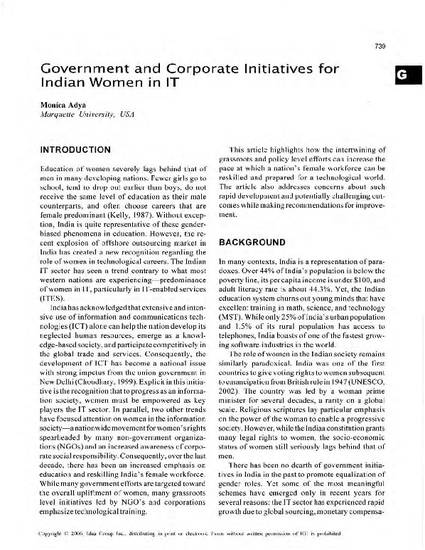 Contribution to Book
Government and Corporate Initiatives for Indian Women in IT
Encyclopedia of Gender and Information Technology
Document Type
Contribution to Book
Publication Date
1-1-2006
Original Item ID
doi: 10.4018/978-1-59140-815-4.ch115; Shelves: HD6060.6.E53 2006 MEM LVL 3
Abstract
Education of women severely lags behind that of men in many developing nations. Fewer girls go to school, tend to drop out earlier than boys, do not receive the same level of education as their male counterparts, and often choose careers that are female predominant (Kelly, 1987). Without exception, India is quite representative of these gender-biased phenomena in education. However, the recent explosion of offshore outsourcing market in India has created a new recognition regarding the role of women in technological careers. The Indian IT sector has seen a trend contrary to what most western nations are experiencing—predominance of women in IT, particularly in IT-enabled services (ITES). India has acknowledged that extensive and intensive use of information and communications technologies (ICT) alone can help the nation develop its neglected human resources, emerge as a knowledge-based society, and participate competitively in the global trade and services. Consequently, the development of ICT has become a national issue with strong impetus from the union government in New Delhi (Choudhary, 1999). Explicit in this initiative is the recognition that to progress as an information society, women must be empowered as key players the IT sector. In parallel, two other trends have focused attention on women in the information society—a nationwide movement for women's rights spearheaded by many non-government organizations (NGOs) and an increased awareness of corporate social responsibility. Consequently, over the last decade, there has been an increased emphasis on education and reskilling India's female workforce. While many government efforts are targeted toward the overall upliftment of women, many grassroots level initiatives led by NGO's and corporations emphasize technological training. This article highlights how the intertwining of grassroots and policy level efforts can increase the pace at which a nation's female workforce can be reskilled and prepared for a technological world. The article also addresses concerns about such rapid development and potentially challenging outcomes while making recommendations for improvement.
Citation Information
Monica Adya. "Government and Corporate Initiatives for Indian Women in IT"
Encyclopedia of Gender and Information Technology
(2006) ISSN: 9781591408154
Available at: http://works.bepress.com/monica_adya/26/