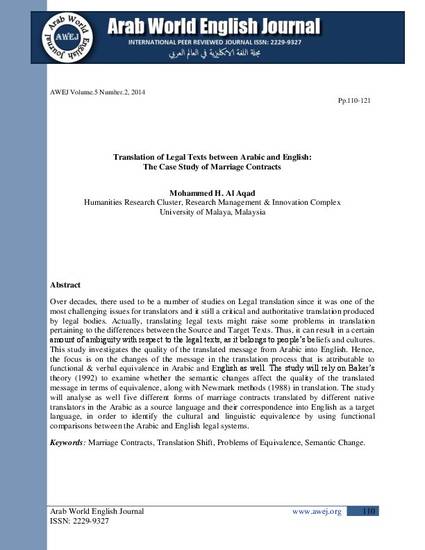 Article
Translation of Legal Texts between Arabic and English: The Case Study of Marriage Contracts
Arab World English Journal (2014)
Abstract
Over decades, there used to be a number of studies on Legal translation since it was one of the most challenging issues for translators and it still a critical and authoritative translation produced by legal bodies. Actually, translating legal texts might raise some problems in translation pertaining to the differences between the Source and Target Texts. Thus, it can result in a certain amount of ambiguity with respect to the legal texts, as it belongs to people"s beliefs and cultures. This study investigates the quality of the translated message from Arabic into English. Hence, the focus is on the changes of the message in the translation process that is attributable to functional & verbal equivalence in Arabic and English as well. The study will rely on Baker"s theory (1992) to examine whether the semantic changes affect the quality of the translated message in terms of equivalence, along with Newmark methods (1988) in translation. The study will analyse as well five different forms of marriage contracts translated by different native translators in the Arabic as a source language and their correspondence into English as a target language, in order to identify the cultural and linguistic equivalence by using functional comparisons between the Arabic and English legal systems.
Keywords
Marriage Contracts,
Translation Shift,
Problems of Equivalence,
Semantic Change
Publication Date
Summer July, 2014
Citation Information
Al Aqad, Mohammed. "Translation of Legal Texts between Arabic and English: The Case Study of Marriage Contracts" Arab World English Journal 5.2 (2014): 110-121.