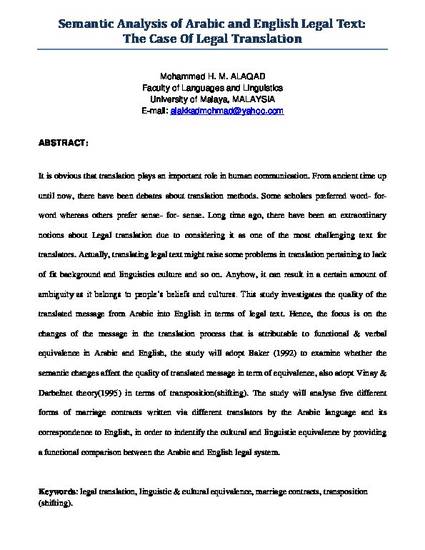 Article
Semantic Analysis of Arabic and English Legal Text: The Case of Legal Translation
The Regional Conference of the International Association of Forensic Linguists IAFL2012 (2012)
Abstract
It is obvious that translation plays an important role in human communication. From ancient time up until now, there have been debates about translation methods. Some scholars preferred word- for- word whereas others prefer sense- for- sense. Long time ago, there have been an extraordinary notions about Legal translation due to considering it as one of the most challenging text for translators. Actually, translating legal text might raise some problems in translation pertaining to lack of fit background and linguistics culture and so on. Anyhow, it can result in a certain amount of ambiguity as it belongs to people's beliefs and cultures. This study investigates the quality of the translated message from Arabic into English in terms of legal text. Hence, the focus is on the changes of the message in the translation process that is attributable to functional & verbal equivalence in Arabic and English, the study will adopt Baker (1992) to examine whether the semantic changes affect the quality of translated message in term of equivalence, also adopt Vinay & Darbelnet theory(1995) in terms of transposition(shifting). The study will analyse five different forms of marriage contracts written via different translators by the Arabic language and its correspondence to English, in order to indentify the cultural and linguistic equivalence by providing a functional comparison between the Arabic and English legal system.
Keywords
legal translation,
linguistic & cultural equivalence,
marriage contracts,
transposition (shifting)
Publication Date
Summer July 5, 2012
Citation Information
Mohammed H. M. Al Aqad. "Semantic Analysis of Arabic and English Legal Text: The Case of Legal Translation"
The Regional Conference of the International Association of Forensic Linguists IAFL2012
(2012)
Available at: http://works.bepress.com/mohammed_alaqad/4/