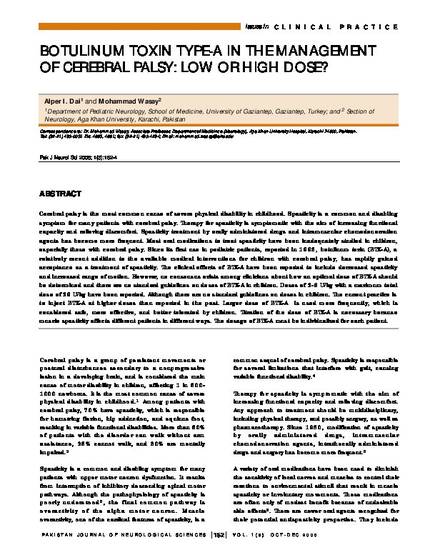 Article
Botulinum toxin type-A in the management of cerebral palsy: low or high dose?
Pakistan Journal of Neurological Sciences
Publication Date
10-1-2006
Abstract
Cerebral palsy is the most common cause of severe physical disability in childhood. Spasticity is a common and disabling symptom for many patients with cerebral palsy. Therapy for spasticity is symptomatic with the aim of increasing functional capacity and relieving discomfort. Spasticity treatment by orally administered drugs and intramuscular chemodenervation agents has become more frequent. Most oral medications to treat spasticity have been inadequately studied in children, especially those with cerebral palsy. Since its first use in pediatric patients, reported in 1993, botulinum toxin (BTX-A), a relatively recent addition to the available medical interventions for children with cerebral palsy, has rapidly gained acceptance as a treatment of spasticity. The clinical effects of BTX-A have been reported to include decreased spasticity and increased range of motion. However, no consensus exists among clinicians about how an optimal dose of BTX-A should be determined and there are no standard guidelines on doses of BTX-A in children. Doses of 2-6 U/kg with a maximum total dose of 29 U/kg have been reported. Although there are no standard guidelines on doses in children. The current practice is to inject BTX-A at higher doses than reported in the past. Larger dose of BTX-A is used more frequently, which isconsidered safe, more effective, and better tolerated by children. Titration of the dose of BTX-A is necessary because muscle spasticity affects different patients in different ways. The dosage of BTX-A must be individualized for each patient.
Citation Information
Alper I. Dai and Mohammad Wasay. "Botulinum toxin type-A in the management of cerebral palsy: low or high dose?"
Pakistan Journal of Neurological Sciences
Vol. 1 Iss. 3 (2006) p. 152 - 154
Available at: http://works.bepress.com/mohammad_wasay/11/