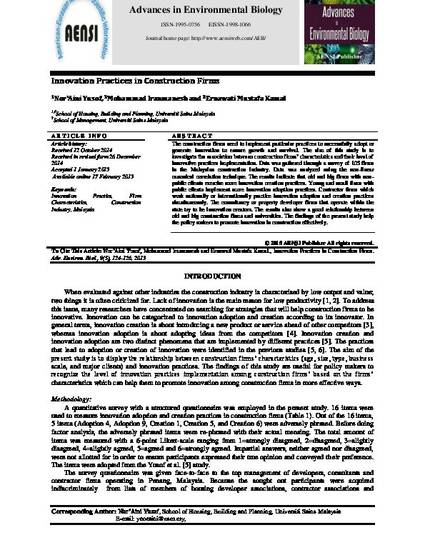 Article
Innovation Practices in Construction Firms
Advances in Environmental Biology (2015)
Abstract
The construction firms need to implement particular practices to successfully adopt or generate innovation to ensure growth and survival. The aim of this study is to investigate the association between construction firms' characteristics and their level of innovative practices implementation. Data was gathered through a survey of 105 firms in the Malaysian construction industry. Data was analyzed using the non-linear canonical correlation technique. The results indicate that old and big firms with non- public clients exercise more innovation creation practices. Young and small firms with public clients implement more innovation adoption practices. Contractor firms which work nationally or internationally practice innovation adoption and creation practices simultaneously. The consultancy or property developer firms that operate within the state try to be innovation creators. The results also show a good relationship between old and big construction firms and universities. The findings of the present study help the policy makers to promote innovation in construction effectively.
Keywords
Innovation Practices,
Firm Characteristics,
Construction Industry,
Malaysia
Citation Information
Mohammad Iranmanesh, Nor'Aini Yusof and Ernawati Mustafa Kamal. "Innovation Practices in Construction Firms"
Advances in Environmental Biology
Vol. 9 Iss. 5 (2015)
Available at: http://works.bepress.com/mohammad_iranmanesh/5/