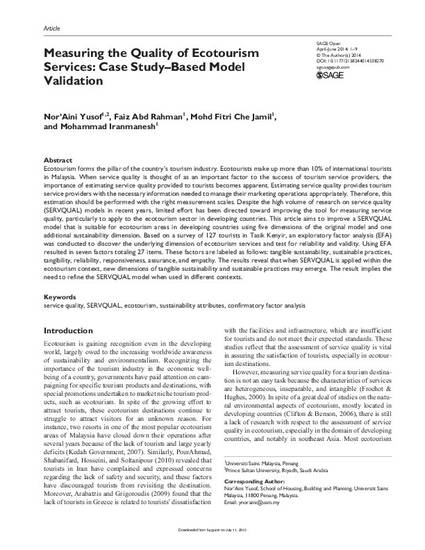 Article
Measuring the Quality of Ecotourism Services: Case Study–Based Model Validation
SAGE Open (2014)
Abstract
Ecotourism forms the pillar of the country's tourism industry. Ecotourists make up more than 10% of international tourists in Malaysia. When service quality is thought of as an important factor to the success of tourism service providers, the importance of estimating service quality provided to tourists becomes apparent. Estimating service quality provides tourism service providers with the necessary information needed to manage their marketing operations appropriately. Therefore, this estimation should be performed with the right measurement scales. Despite the high volume of research on service quality (SERVQUAL) models in recent years, limited effort has been directed toward improving the tool for measuring service quality, particularly to apply to the ecotourism sector in developing countries. This article aims to improve a SERVQUAL model that is suitable for ecotourism areas in developing countries using five dimensions of the original model and one additional sustainability dimension. Based on a survey of 127 tourists in Tasik Kenyir, an exploratory factor analysis (EFA) was conducted to discover the underlying dimension of ecotourism services and test for reliability and validity. Using EFA resulted in seven factors totaling 27 items. These factors are labeled as follows: tangible sustainability, sustainable practices, tangibility, reliability, responsiveness, assurance, and empathy. The results reveal that when SERVQUAL is applied within the ecotourism context, new dimensions of tangible sustainability and sustainable practices may emerge. The result implies the need to refine the SERVQUAL model when used in different contexts.
Keywords
service quality,
SERVQUAL,
ecotourism,
sustainability attributes,
confirmatory factor analysis
Citation Information
Nor'Aini Yusof, Faiz Abd Rahman, Mohd Fitri Che Jamil and Mohammad Iranmanesh. "Measuring the Quality of Ecotourism Services: Case Study–Based Model Validation"
SAGE Open
Vol. 4 Iss. 2 (2014)
Available at: http://works.bepress.com/mohammad_iranmanesh/2/