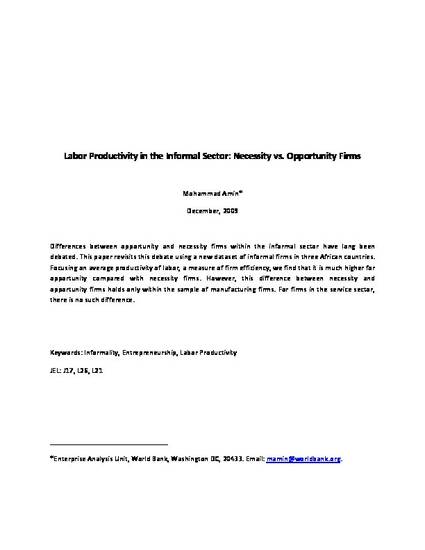 Article
Labor Productivity in the Informal Sector: Necessity vs. Opportunity Firms
Mimeograph (2009)
Abstract
Differences between opportunity and necessity firms within the informal sector have long been debated. This paper revisits this debate using a new dataset of informal firms in three African countries. Focusing on average productivity of labor, a measure of firm efficiency, we find that it is much higher for opportunity compared with necessity firms. However, this difference between necessity and opportunity firms holds only within the sample of manufacturing firms. For firms in the service sector, there is no such difference.
[Data and Stata do files included]
Keywords
Informality,
Entrepreneurship,
Labor Productivity
Publication Date
December 28, 2009
Citation Information
Mohammad Amin. "Labor Productivity in the Informal Sector: Necessity vs. Opportunity Firms"
Mimeograph
(2009)
Available at: http://works.bepress.com/mohammad_amin/17/