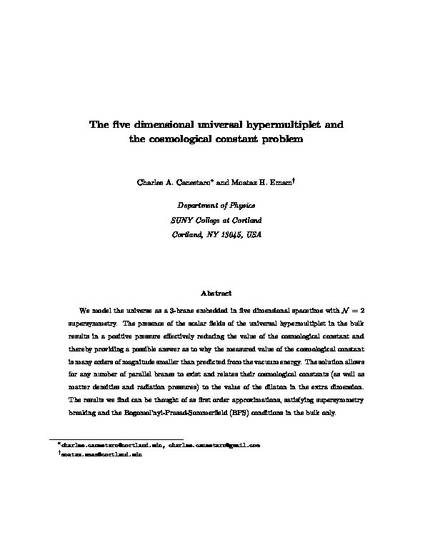 Article
The five dimensional universal hypermultiplet and the cosmological constant problem
Physics Letters (2013)
Abstract
We model the universe as a 3-brane embedded in five dimensional spacetime with N=2 supersymmetry. The presence of the scalar fields of the universal hypermultiplet in the bulk results in a positive pressure effectively reducing the value of the cosmological constant and thereby providing a possible answer as to why the measured value of the cosmological constant is many orders of magnitude smaller than predicted from the vacuum energy. The solution allows for any number of parallel branes to exist and relates their cosmological constants (as well as matter densities and radiation pressures) to the value of the dilaton in the extra dimension. The results we find can be thought of as first order approximations, satisfying supersymmetry breaking and the Bogomol'nyi-Prasad-Sommerfield (BPS) conditions in the bulk only.
Publication Date
Fall 2013
Citation Information
Moataz Emam and Charles Canestaro. "The five dimensional universal hypermultiplet and the cosmological constant problem"
Physics Letters
Vol. B Iss. 726 (2013)
Available at: http://works.bepress.com/moataz_emam/13/