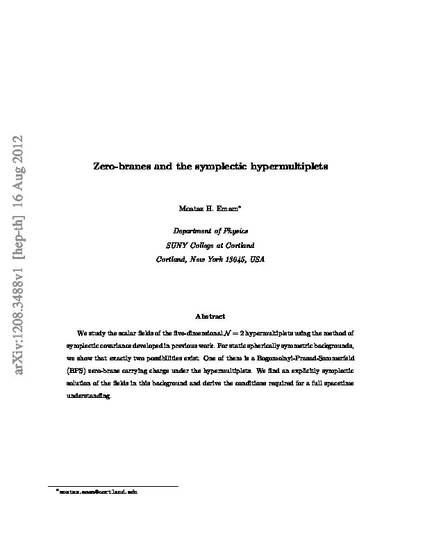 Article
Zero-branes and the symplectic hypermultiplets
Physical Review D (2012)
Abstract
We study the scalar fields of the five-dimensional N = 2 hypermultiplets using the method of symplectic covariance developed in previous work. For static spherically symmetric backgrounds, we show that exactly two possibilities exist. One of them is a Bogomolnyi-Prasad-Sommerfeld (BPS) zero-brane carrying charge under the hypermultiplets. We find an explicitly symplectic solution of the fields in this background and derive the conditions required for a full spacetime understanding.
Keywords
Symplectic hyermultiplets branes supergravity
Publication Date
Summer August 9, 2012
Citation Information
Moataz Emam. "Zero-branes and the symplectic hypermultiplets"
Physical Review D
(2012)
Available at: http://works.bepress.com/moataz_emam/11/