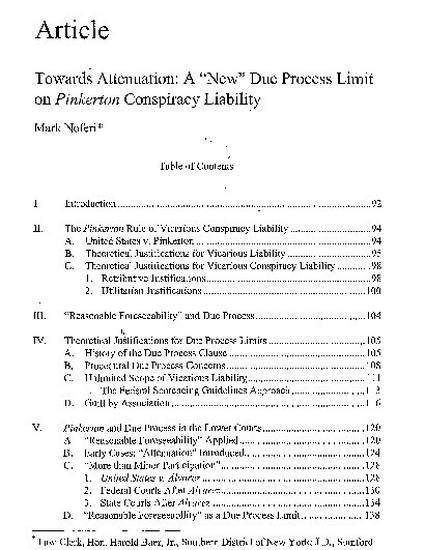 Article
Towards Attenuation: A 'New' Due Process Limit on Pinkerton Conspiracy Liability
American Journal of Criminal Law (2006)
Abstract
Since 1946, Pinkerton v. United States has purportedly settled the rule that a conspirator can be held vicariously liable for the crimes of his co-conspirators. Over the last thirty years, however, courts have begun to articulate and enforce Due Process limits on vicarious conspiracy liability where defendants are "attenuated" from their co-conspirator's crimes. This article represents the first academic examination of constitutional Due Process limits on Pinkerton conspiracy liability, their theoretical underpinnings, and the implications as the federal government pursues terrorism and corporate conspiracy prosecutions.
Keywords
conspiracy,
due process,
vicarious liability,
accomplice liability,
due process clause
Publication Date
Spring 2006
Citation Information
Mark L. Noferi, "Towards Attenuation: A 'New' Due Process Limit on Pinkerton Conspiracy Liability," 33 American Journal of Criminal Law 91 (2006).