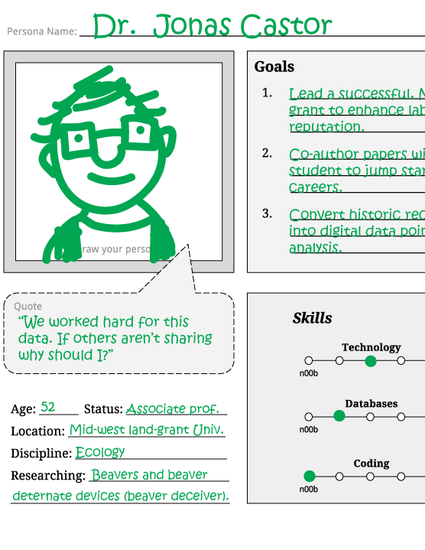 Problem Set, Assignment, and Solutions
Create A Data Persona Workshop
Data Management (2016)
Description
This file set contains all of the materials needed to hold your very own Create A Data Persona Workshop. 
The workshop was developed and first presented by Megan N. O'Donnell on October 17 at the 2016 Midwest Data Librarians Symposium, Ann Arbor Michigan. 
Activity Description
Small groups will work together to create a data persona - a fictional archetype of a researcher, their research data, and research practices as they relate to data management.  
Learning Outcomes
Illustrate true-to-life research situations to promote critical thinking and problem solving. 
Recognize how data and project management intersect throughout the research process.
Appraise problems that hinder successful data management.
Identify potential strategies and talking points for helping different personas.
You can find editable versions of the PDFs, as well all the other files on Google Drive (see References) which is where they were originally developed.
All materials are licensed under a Creative Commons Attribution 4.0 International License and the author encourages their reuse, remixing, and re-sharing of derivatives. She also appreciates feedback.
Keywords
personas,
data management,
workshop,
OER
Publication Date
October 27, 2016
DOI
10.6084/m9.figshare.4109562.v1
Citation Information
Megan N O'Donnell. "Create A Data Persona Workshop"
Data Management
(2016)
Available at: http://works.bepress.com/mno/7/
Creative Commons license
This work is licensed under a Creative Commons CC_BY International License.