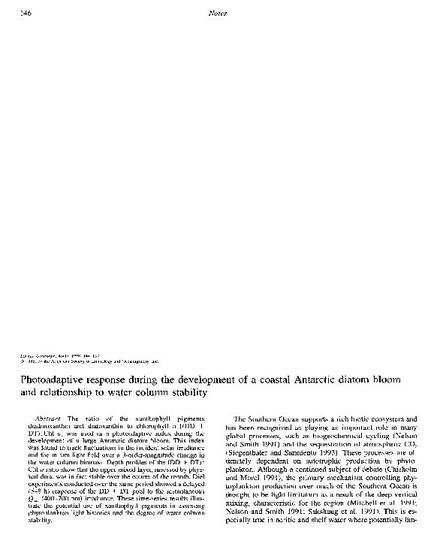 Article
Photoadaptive Response During the Development of a Coastal Antarctic Diatom Bloom and Relationship to Water Column Stability
Limnology and Oceanography
Publication Date
1-1-1998
Abstract
The ratio of the xanthophyll pigments diadinoxanthin and diatoxanthin to chlorophyll a [(DD + DT): Chl a] was used as a photoadaptive index during the development of a large Antarctic diatom bloom. This index was found to track fluctuations in the incident solar irradiance and the in situ light field over a 3-order-magnitude change in the water column biomass. Depth profiles of the (DD + DT): Chl a ratio showed that the upper mixed layer, assessed by physical data, was in fact stable over the course of the month. Diel experiments conducted over the same period showed a delayed (5-8 h) response of the DD + DT pool to the instantaneous Qpar (400-700 nm) irradiance. These time-series results illustrate the potential use of xanthophyll pigments in assessing phytoplankton light histories and the degree of water column stability.
Citation Information
Mark A. Moline. "Photoadaptive Response During the Development of a Coastal Antarctic Diatom Bloom and Relationship to Water Column Stability"
Limnology and Oceanography
Vol. 43 Iss. 1 (1998) p. 146 - 153
Available at: http://works.bepress.com/mmoline/16/