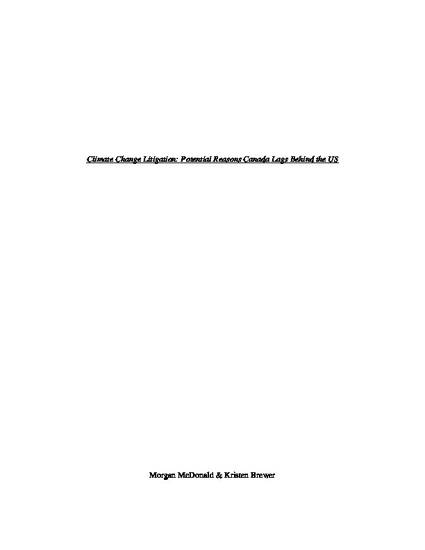 Unpublished Paper
Climate Change Litigation: Potential Reasons Canada Lags Behind the United States
ExpressO (2012)
Abstract
Despite the overwhelming evidence that climate change threatens our environmental security, governments have neglected to enact comprehensive legislation regulating greenhouse gas (GHG) emissions. Since the political realm has failed to act, climate litigants have turned to the judicial branch to force GHG reform. Although the US and Canada support similar GHG emitting corporations and have similar legal systems, their experience in climate litigation is strikingly different. While US courts have seen approximately five hundred climate change actions, Canada has seen only two cases. The remarkable absence of climate litigation in Canada is concerning because these actions play an essential role in the overall regulatory framework of the United States through their legal, economic, and socio-legal impacts: a role that remains unfulfilled in Canada. This article compares and contrasts differences between US and Canadian legal systems that could explain this disparity, filling a gap in ongoing climate reform discussion. The first section considers potential reasons that Canadian courts have not seen climate litigation akin to the US, including: varying justiciability concerns; differences between climate statutes and common law jurisprudence; the effect of judicial systems; and divergent legal cultures. Section two contends that notwithstanding these barriers to Canadian climate litigants, litigation is an important tool for climate reform because it serves both litigation and supra litigation goals of the parties and larger affected society. The article concludes that while many differences between US and Canadian legal systems could account, individually or collectively, for Canada's dearth of climate litigation, Canada's wait-and-see approach to climate litigation invites a less than complete reform, where those most deeply affected by climate change remain without an avenue for redress in the judicial system.
Keywords
climate change,
litigation,
canada,
united states
Publication Date
February 6, 2012
Citation Information
Morgan McDonald. "Climate Change Litigation: Potential Reasons Canada Lags Behind the United States"
ExpressO
(2012)
Available at: http://works.bepress.com/mmcdonald/1/