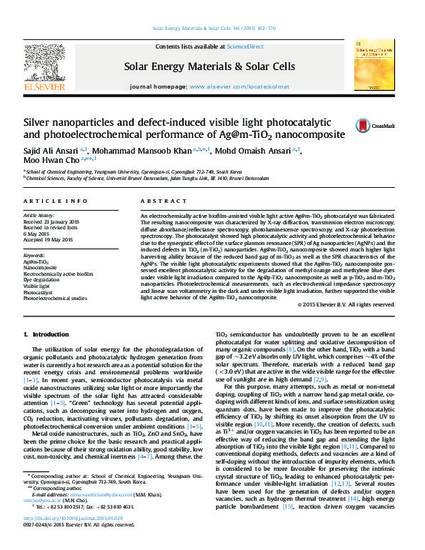 Article
Silver nanoparticles and defect-induced visible light photocatalytic and photoelectrochemical performance of Ag@m-TiO2 nanocomposite
Solar Energy Materials and Solar Cells (2015)
Abstract
An electrochemically active biofilm-assisted visible light active Ag@m-TiO2 photocatalyst was fabricated. The resulting nanocomposite was characterized by X-ray diffraction, transmission electron microscopy, diffuse absorbance/reflectance spectroscopy, photoluminescence spectroscopy, and X-ray photoelectron spectroscopy. The photocatalyst showed high photocatalytic activity and photoelectrochemical behavior due to the synergistic effect of the surface plasmon resonance (SPR) of Ag nanoparticles (AgNPs) and the induced defects in TiO2 (m-TiO2) nanoparticles. Ag@m-TiO2 nanocomposite showed much higher light harvesting ability because of the reduced band gap of m-TiO2 as well as the SPR characteristics of the AgNPs. The visible light photocatalytic experiments showed that the Ag@m-TiO2 nanocomposite possessed excellent photocatalytic activity for the degradation of methyl orange and methylene blue dyes under visible light irradiation compared to the Ag@p-TiO2 nanocomposite as well as p-TiO2 and m-TiO2 nanoparticles. Photoelectrochemical measurements, such as electrochemical impedance spectroscopy and linear scan voltammetry in the dark and under visible light irradiation, further supported the visible light active behavior of the Ag@m-TiO2 nanocomposite.
Keywords
Silver nanoparticles,
defect-induced visible light photocatalysis,
visible light photocatalysis
Publication Date
June 10, 2015
Citation Information
Mohammad Mansoob Khan, S. A. Ansari, M. O. Ansari and M. H. Cho. "Silver nanoparticles and defect-induced visible light photocatalytic and photoelectrochemical performance of Ag@m-TiO2 nanocomposite"
Solar Energy Materials and Solar Cells
Vol. 141 (2015)
Available at: http://works.bepress.com/mmansoob_khan/59/