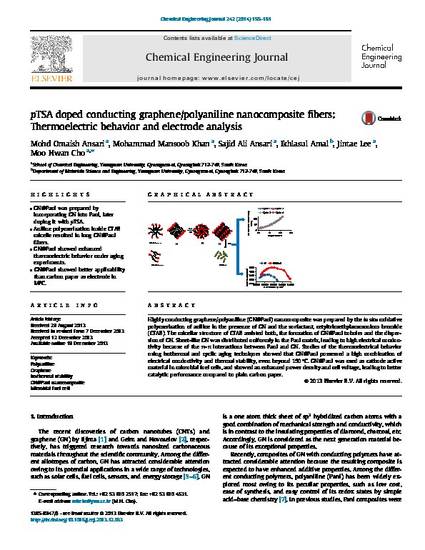 Article
pTSA doped conducting graphene/polyaniline nanocomposite fibers: Thermoelectric behavior and electrode analysis
Chemical Engineering Journal (2014)
Abstract
Highly conducting graphene/polyaniline (GN@Pani) nanocomposite was prepared by the in-situ oxidative polymerization of aniline in the presence of GN and the surfactant, cetyltrimethylammonium bromide (CTAB). The micellar structure of CTAB assisted both, the formation of GN@Pani tubules and the dispersion of GN. Sheet-like GN was distributed uniformly in the Pani matrix, leading to high electrical conductivity because of the π-π interactions between Pani and GN. Studies of the thermoelectrical behavior using isothermal and cyclic aging techniques showed that GN@Pani possessed a high combination of electrical conductivity and thermal stability, even beyond 150°C. GN@Pani was used as cathode active material in microbial fuel cells, and showed an enhanced power density and cell voltage, leading to better catalytic performance compared to plain carbon paper.
Keywords
Polyaniline; graphene; isothermal stability; GN@Pani nanocomposite; microbial fuel cell.
Publication Date
April 15, 2014
Citation Information
Mohammad Mansoob Khan, M. O. Ansari, S. A. Ansari, M. I. Amal, et al.. "pTSA doped conducting graphene/polyaniline nanocomposite fibers: Thermoelectric behavior and electrode analysis"
Chemical Engineering Journal
Vol. 242 (2014)
Available at: http://works.bepress.com/mmansoob_khan/39/