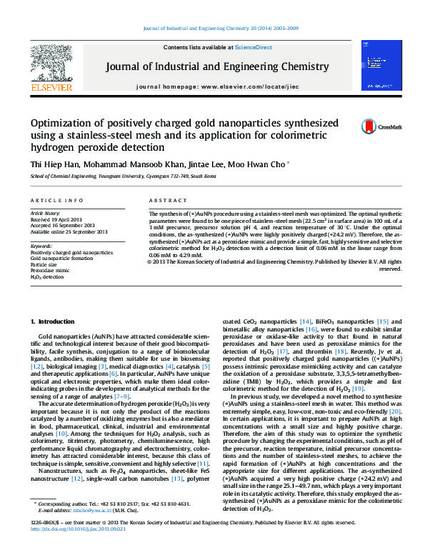 Article
Optimization of gold nanoparticles synthesis by stainless steel for H2O2 and glucose detection
Journal of Industrial and Chemical Engineering (2013)
Abstract
The synthesis of (+)AuNPs procedure using a stainless-steel mesh was optimized. The optimal synthetic parameters were found to be one piece of stainless-steel mesh (22.5 cm2 in surface area) in 100 mL of a 1 mM precursor, precursor solution pH 4, and reaction temperature of 30°C. Under the optimal conditions, the as-synthesized (+)AuNPs were highly positively charged (+24.2 mV). Therefore, the as-synthesized (+)AuNPs act as a peroxidase mimic and provide a simple, fast, highly sensitive and selective colorimetric method for H2O2 detection with a detection limit of 0.06 mM in the linear range from 0.06 mM to 4.29 mM.
Keywords
Positively charged gold nanoparticles; gold nanoparticle formation; particle size; peroxidase mimic; H2O2 detection
Publication Date
September 16, 2013
Citation Information
T. H. Han, Mohammad Mansoob Khan, J. Lee and M. H. Cho. "Optimization of gold nanoparticles synthesis by stainless steel for H2O2 and glucose detection"
Journal of Industrial and Chemical Engineering
Vol. 20 (2013)
Available at: http://works.bepress.com/mmansoob_khan/34/