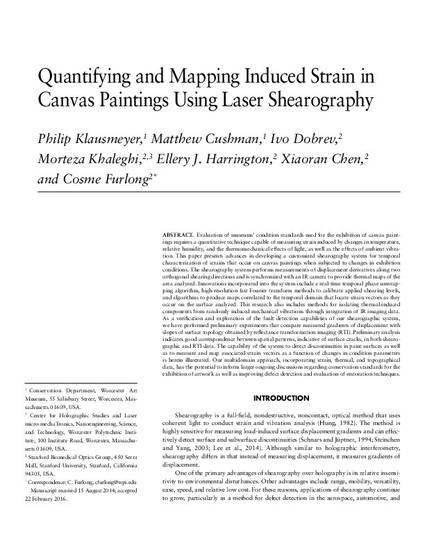 Contribution to Book
Quantifying and Mapping Induced Strain in Canvas Paintings Using Laser Shearography
Smithsonian Contributions to Museum Conservation (2016)
Abstract
Evaluation of museums' condition standards used for the exhibition of canvas paintings requires a quantitative technique capable of measuring strain induced by changes in temperature, relative humidity, and the thermomechanical effects of light, as well as the effects of ambient vibration. This paper presents advances in developing a customized shearography system for temporal characterization of strains that occur on canvas paintings when subjected to changes in exhibition conditions. The shearography system performs measurements of displacement derivatives along two orthogonal shearing directions and is synchronized with an IR camera to provide thermal maps of the area analyzed. Innovations incorporated into the system include a real-time temporal phase unwrapping algorithm, high-resolution fast Fourier transform methods to calibrate applied shearing levels,
and algorithms to produce maps correlated to the temporal domain that locate strain vectors as they occur on the surface analyzed. This research also includes methods for isolating thermal-induced components from randomly induced mechanical vibrations through integration of IR imaging data. As a verification and exploration of the fault detection capabilities of our shearographic system, we have performed preliminary experiments that compare measured gradients of displacement with slopes of surface topology obtained by reflectance transformation imaging (RTI). Preliminary analysis indicates good correspondence between spatial patterns, indicative of surface cracks, in both shearographic and RTI data. The capability of the system to detect discontinuities in paint surfaces as well as to measure and map associated strain vectors as a function of changes in condition parameters
is herein illustrated. Our multidomain approach, incorporating strain, thermal, and topographical data, has the potential to inform larger ongoing discussions regarding conservation standards for the exhibition of artwork as well as improving defect detection and evaluation of restoration techniques.
Keywords
Shearography,
Laser Interferometry,
Art conservation,
reflectance transformation imaging
Publication Date
Winter November 9, 2016
Editor
Austin Nevin and Tiarna Doherty
Publisher
Smithsonian Institution Scholarly Press
Series
Smithsonian Contributions to Museum Conservation
DOI
10.5479/si.19492367.5
Citation Information
Philip Klausmeyer, Matthew Cushman, Ivo Dobrev, Morteza Khaleghi, et al.. "Quantifying and Mapping Induced Strain in Canvas Paintings Using Laser Shearography"
Smithsonian Contributions to Museum Conservation
Vol. November (2016) p. 1 - 13
Available at: http://works.bepress.com/mkm/6/