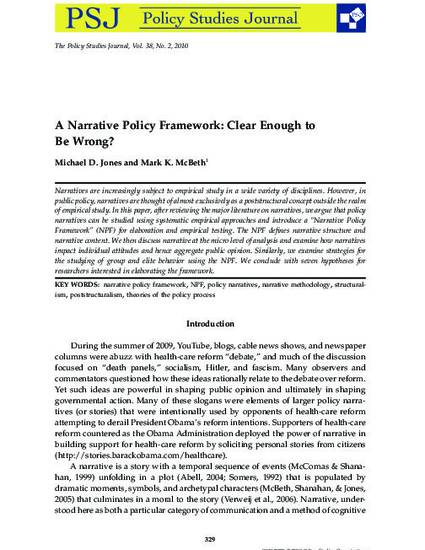 Article
Narrative Policy Framework: Clear Enough to be Wrong?
Policy Studies Journal (2010)
Abstract
Narratives are increasingly subject to empirical study in a wide variety of disciplines. However, in public policy narratives are thought of almost exclusively as a post-structural concept outside the realm of empirical study. In this paper, after reviewing the major literature on narratives, we argue that policy narratives can be studied using systematic empirical approaches and introduce a "Narrative Policy Framework" (NPF) for elaboration and empirical testing. The NPF defines narrative structure and narrative content. We then discuss narrative at the micro-level of analysis and examine how narratives impact individual attitudes and hence aggregate public opinion. Similarly, we examine strategies for the studying of group and elite behavior using NPF. We conclude with seven hypotheses for researchers interested in elaborating the framework.
Citation Information
Michael D. Jones and Mark K. McBeth. "Narrative Policy Framework: Clear Enough to be Wrong?"
Policy Studies Journal
Vol. 38 Iss. 2 (2010)
Available at: http://works.bepress.com/mjones/3/