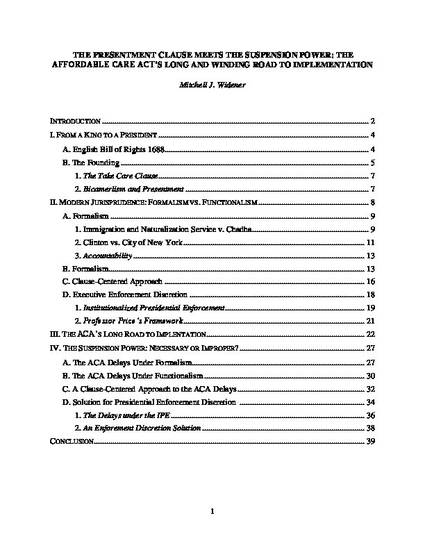 Unpublished Paper
THE PRESENTMENT CLAUSE MEETS THE SUSPENSION POWER: THE AFFORDABLE CARE ACT'S LONG AND WINDING ROAD TO IMPLEMENTATION
ExpressO (2014)
Abstract
The presentment clause MEETs the Suspension Power: The Affordable Care Act's Long and Winding Road to Implementation
Mitchell J. Widener
Abstract
To enact a law, the Presentment Clause of the Constitution mandates that both Houses of Congress present a bill to the President who either signs it into law or vetoes it. The Founders included this provision to prevent presidents from emulating King James II, who would routinely suspend Parliament's laws to favor political constituents. Additionally, the Presentment Clause served to enhance the separation-of-powers principle implied in the Constitution.
Within the past year, President Obama has suspended multiple portions of the Patient Protection and Affordable Care Act, namely, the employer and individual mandates. The Obama Administration has defended this practice by arguing that President Obama is merely using his "inherent authority to exercise discretion" afforded to the executive branch in implementing new regulatory regimes. Scholars have debated just how far this discretion goes, and offered governing strategies that quell accountability concerns. While some scholarship has touched on the ACA suspensions lightly, none have analyzed them rigorously under competing constitutional theories.
This article argues that President Obama's ACA suspensions violate the Presentment Clause. Going forward, this suspension power proves troubling because it gives a President the power to simply ignore U.S. Code statutory requirements. If a President may postpone enactment dates, what about indefinite postponement? Additionally, may a President selectively enforce the laws in the name of executive discretion? While twenty-first century practicalities demand some leeway in enacting laws, the President should not be able to make wholesale changes to laws. Ultimately, this article advocates for a system that balances regulatory pragmatism with accountability, transparency, and fidelity to the constitutional text.
Publication Date
April 10, 2014
Citation Information
Mitchell Widener. "THE PRESENTMENT CLAUSE MEETS THE SUSPENSION POWER: THE AFFORDABLE CARE ACT'S LONG AND WINDING ROAD TO IMPLEMENTATION"
ExpressO
(2014)
Available at: http://works.bepress.com/mitchell_widener/1/