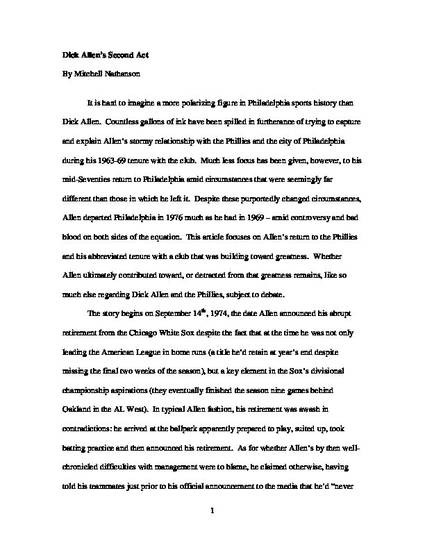 Article
Dick Allen's Second Act
The National Pastime (2013)
Abstract
It is hard to imagine a more polarizing figure in Philadelphia sports history than Dick Allen. Countless gallons of ink have been spilled in furtherance of trying to capture and explain Allen's stormy relationship with the Phillies and the city of Philadelphia during his 1963-69 tenure with the club. Much less focus has been given, however, to his mid-Seventies return to Philadelphia amid circumstances that were seemingly far different than those in which he left it. Despite these purportedly changed circumstances, Allen departed Philadelphia in 1976 much as he had in 1969 – amid controversy and bad blood on both sides of the equation. This article focuses on Allen's return to the Phillies and his abbreviated tenure with a club that was building toward greatness. Whether Allen ultimately contributed toward, or detracted from that greatness remains, like so much else regarding Dick Allen and the Phillies, subject to debate.
Keywords
Baseball,
Dick Allen,
Richie Allen,
Phillies
Citation Information
Mitchell J Nathanson. "Dick Allen's Second Act"
The National Pastime
(2013)
Available at: http://works.bepress.com/mitchell_nathanson/30/