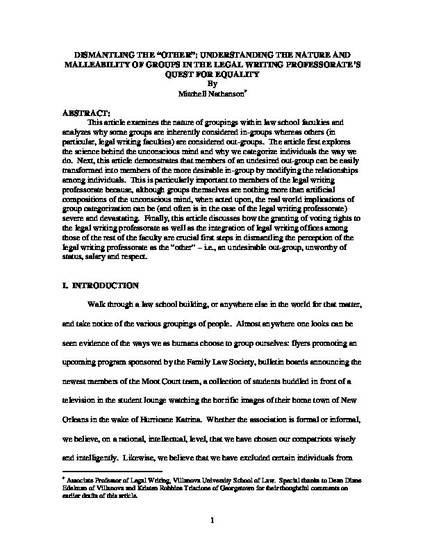 Article
Dismantling the "Other": Understanding the Nature and Malleability of Groups in the Legal Writing Professorate's Quest for Equality
Journal of the Legal Writing Institute (2007)
Abstract
This article examines the nature of groupings within law school faculties and analyzes why some groups are inherently considered in-groups whereas others (in particular, legal writing faculties) are considered out-groups. The article first explores the science behind the unconscious mind and why we categorize individuals the way we do. Next, this article demonstrates that members of an undesired out-group can be easily transformed into members of the more desirable in-group by modifying the relationships among individuals. This is particularly important to members of the legal writing professorate because, although groups themselves are nothing more than artificial compositions of the unconscious mind, when acted upon, the real world implications of group categorization can be (and often is in the case of the legal writing professorate) severe and devastating. Finally, this article discusses how the granting of voting rights to the legal writing professorate as well as the integration of legal writing offices among those of the rest of the faculty are crucial first steps in dismantling the perception of the legal writing professorate as the "other" – i.e., an undesirable out-group, unworthy of status, salary and respect.
Keywords
legal writing,
psychology,
sociology
Publication Date
October, 2007
Citation Information
Mitchell J Nathanson. "Dismantling the "Other": Understanding the Nature and Malleability of Groups in the Legal Writing Professorate's Quest for Equality"
Journal of the Legal Writing Institute
(2007)
Available at: http://works.bepress.com/mitchell_nathanson/1/