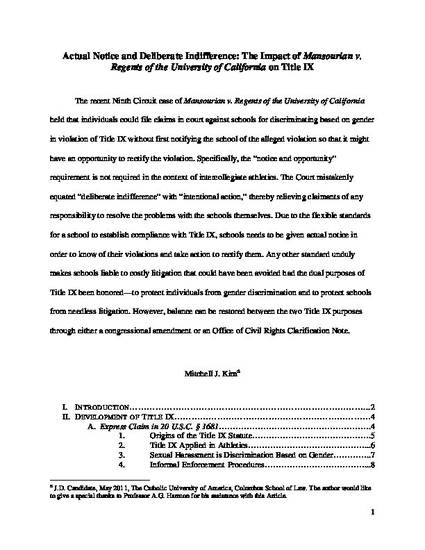 Unpublished Paper
Actual Notice and Deliberate Indifference: The Impact of Mansourian v. Regents of the University of California on Title IX
ExpressO (2010)
Abstract
The recent Ninth Circuit case of Mansourian v. Regents of the University of California held that individuals could file claims in court against schools for discriminating based on gender in violation of Title IX without first notifying the school of the alleged violation so that it might have an opportunity to rectify the violation. Specifically, the "notice and opportunity" requirement is not required in the context of intercollegiate athletics. The Court mistakenly equated "deliberate indifference" with "intentional action," thereby relieving claimants of any responsibility to resolve the problems with the schools themselves. Due to the flexible standards for a school to establish compliance with Title IX, schools needs to be given actual notice in order to know of their violations and take action to rectify them. Any other standard unduly makes schools liable to costly litigation that could have been avoided had the dual purposes of Title IX been honored—to protect individuals from gender discrimination and to protect schools from needless litigation. However, balance can be restored between the two Title IX purposes through either a congressional amendment or an Office of Civil Rights Clarification Note.
Keywords
Title IX,
actual notice,
notice and opportunity,
deliberate indifference,
athletics,
gender discrimination
Publication Date
September 9, 2010
Citation Information
Mitchell J Kim. "Actual Notice and Deliberate Indifference: The Impact of Mansourian v. Regents of the University of California on Title IX"
ExpressO
(2010)
Available at: http://works.bepress.com/mitchell_kim/1/