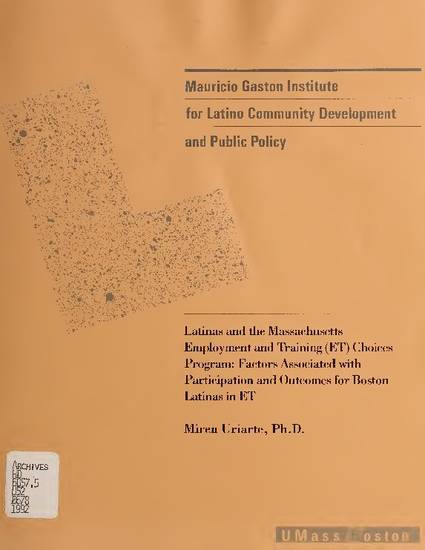 Article
Latinas and the Massachusetts Employment and Training (ET) Choices Program: Factors Associated with Participation and Outcomes for Boston Latinas in ET
Gastón Institute Publications
Document Type
Occasional Paper
Publication Date
1-1-1992
Abstract
This report presents the results of an assessment of the participation and outcomes of Latinos in the Massachusetts Employment and Training (ET) Choices Program. From the start of the ET program, there has been evidence that Latinos participate at rates comparable to that of other groups, but that their outcomes in terms of job placements and wages fall well below the outcome rates of any other group of participants. The main goal of this report is to ascertain the experience of Latino participants in ET and the individual and program factors that present barriers to their successful participation in this program. The study, conducted with the collaboration of the Department of Public Welfare (DPW), focuses on the experience of 300 Latinos in Boston who began their participation in ET in the summer and fall of 1987. It follows their participation through the program until the spring of 1990. In addition, 30 in-depth interviews were conducted with a self-selected group of participants from the above sample. Interviews with contractors with large Latino caseloads (over 50%) were also conducted.
Community Engaged/Serving
No, this is not community-engaged.
Citation Information
Miren Uriarte. "Latinas and the Massachusetts Employment and Training (ET) Choices Program: Factors Associated with Participation and Outcomes for Boston Latinas in ET" (1992)
Available at: http://works.bepress.com/miren_uriarte/22/